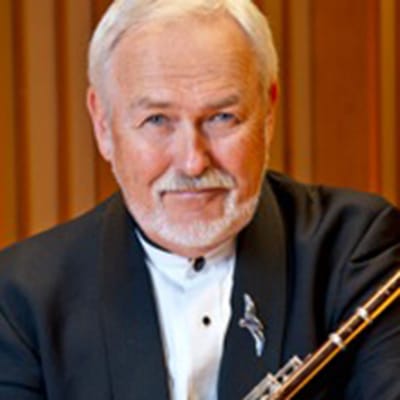 Jim Walker
flute
Few flutists in history have made such indelible marks in so many musical circles. From jazz to pop to classical (orchestra, chamber, and solo) to television and film to the concert hall and his teaching studio, Jim Walker has enjoyed tremendous success.
In 1969 he was named associate principal flute in the Pittsburgh Symphony after a stint playing in the U.S. Military Academy Band at West Point. In 1977 he won the principal flute position in the Los Angeles Philharmonic. After seven successful seasons of performing, recording, and touring with the Los Angeles Philharmonic — during which time the New York Philharmonic briefly borrowed him as principal flute for its 1982 South American tour — he left the orchestra to focus on jazz, studio recording, and teaching.
In 1980 he organized his jazz quartet Free Flight, playing jazz-classical fusion (including four appearances on The Tonight Show and 16 recordings). In the 1990s he was a first-call studio flutist prized for his bold, expressive playing; he can be heard on hundreds of soundtracks. Along the way he collaborated with everyone from John Williams and Paul McCartney to Leonard Bernstein, James Galway, and the LA Guitar Quartet.
Mr. Walker is professor of flute, chamber music, and music technology at the Colburn Conservatory of Music, and professor of practice/coordinator of flute studies at the USC Thornton School of Music, where he was awarded with the Mellon Mentoring Award. His summer masterclass, "Beyond the Masterclass," is now in its seventh year