Make an impact. Make connections.
ENGAGE WITH OVER 100 OTHER EXTRAORDINARY PEOPLE TO SUPPORT THE MUSIC ACADEMY'S MISSION
Meetings with live performances by Academy artists
Creative fundraising events and projects
Luncheons, social events, summer picnic, and exclusive Festival activities
Plan new projects via your choice of Auxiliary committees
Annual membership: $250 per person
The annual membership fee of $250 is tax deductible.

---

If you are interested in joining the Auxiliary today, you are welcome to join and pay dues online. Click below to pay for your 2023 membership.
---
Questions? Please contact:  Auxiliary Chair Mally Chakola
To pay by check, please make checks payable to Music Academy. To pay by IRA, please instruct your IRA administrator to direct a charitable distribution to the Music Academy. (tax ID number: 95-1525814)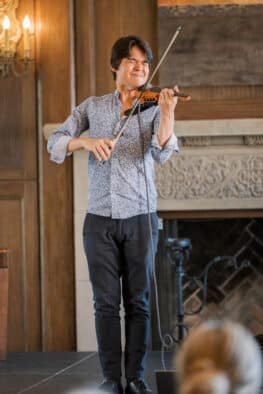 Wed, Feb 22, 4 pm

Tue, Mar 21, 4 pm

Tue, May 9, 4 pm

Wed, Sep 13, 4 pm

Tue, Oct 17, 4 pm
---
Making a Difference...
Together
Auxiliary Member Opportunities
2023 Auxiliary Donor Members
Heather Abed
Alexandra Adams
Judy Astbury
Heidi August
Lori Ballance
MacCauley Becker
Nadia Bernardi
Kathy Bielen
Cynthia Brown
Michelle-Marie J. Burmester
Dean Carter
Susan Case
Mally Chakola chair *
Linda Chapman
Zandra Cholmondeley
Edith Clark
Marna Coday
Sarah Corliss *
Brooke Costello
Kathy Cowell
Caryl Crahan
Meg Di Napoli
Kirsten DiBenedetto
Mimi Do
Sara Dodgin
Catey Dunkley
Kari Eiler
Connie Fickel *
Sharon Fischer
Martha Fling
Lylie G. Francis
Karen Frishman
Marisa Garber
Deborah Branch Geremia
Howard Giles
Jane Giles
Debbie Goodwin
Sarah Gower
Karen Gray
Angie Guiberteau
Carole Halsted
Patricia Hauptman
Julie Heider-Gray
Heidi Henderson
David Herrera
Kelly Herting
Christine Hoehner
Ashley Hollister *
Nan Holt
Dean Jackson
Patty Jacquemin
Ida Johansson
Claire Johnson
Casey Jones Kallenbach
Anita Kaplan
Vikki Keosian
Colleen Koch *
Jenna Koffel
Susan Kuehn
Karen Lehrer
Hubert Leveque
Christina Leveque
Beth Lewis
Deborah Loeb
Margi Mainquist
Maxine Makover
Ani Maldjian
Lisa McCollum *
Nancy McGrath
Dida Merrill
Helga Morris
Sima Morrison
Julie Morrow
Harriet Mosson
Erin Moy
Sierra Muller
Teddy Muller
Letitia (Tish) O'Connor
Mark Osiel
Diane Pannkuk
DeDe Parrett
Pauline Paulin, PhD
Ellen Pillsbury
Beverly Plummer
Minie Pompe Van Meerdervoort, PhD
Pamela Purcilly
Josh Ramirez
Scott Reed
Martha Reich
Alexy Richards
Caroline Rutledge
Manolya Salar
Ann Sarkis
Shelby Scudder
Dawn Seymour
Eileen Sheridan
Susan Sherwin
Nati Smith
Elisabeth (Elisa) Soth
Paula Steinmetz
Sandra Stingle
Pam Strobel
Bobby Tahouri
Carin Tahouri
Rosie Thompson
Cherie Topper
Holiday Vaill
Evie Vesper *
Jessica Warm
Mari Warner *
Kathy Weber
Judy Weirick
Kate Winn-Rogers *
Emily Zacarias
Jennifer Zacharias *
HONORARY MEMBERS
Leslie Bernstein
Eunice Fly
Letty Lauffer
Betty Meyer
Harriet Sharp
Pat Yzurdiaga
*Leadership Committee