Just inside the front gates of the Music Academy of the West, there's a small stand of Norfolk pines. They aren't the most notable or imposing trees on campus, tucked as they are along the property line, but they tower nonetheless above the main drive, their branches heavy with cones. When Fred Lehto, the Music Academy's Buildings and Grounds Technician, planted these trees in the mid-1980s, they were considerably smaller – only six feet tall, roughly Fred's own height. Now, more than three decades later, they're easily forty feet tall. These trees have seen a lot of Music Academy history, but Fred, who predates them by nearly a decade, has seen more. Much more. He's seen leadership changes, watched as the Music Academy grew into the premier summer training festival for young musicians. He's seen what was once a field become the teaching studios of Claeyssens Hall and witnessed the renovations of Hahn Hall and the Marilyn Horne Main House. He's heard the music of countless faculty and guest artists, generations of fellows. And all the while he's watched those Norfolk pines grow – their presence just one physical reminder of his own immense impact on the Music Academy. Fred Lehto's first experience with the Music Academy of the West came in 1977. A Michigander born and raised, Fred had recently graduated from Wayne State University with a BA in Theater. He was looking to strike out into new environs but was undecided on whether to give it a go in New York or California. After discovering that a college friend had a connection in Santa Barbara, he set out for the Golden State. The connection, it turns out, was longtime Music Academy employee Alan Hughes, who, as luck would have it, was in need of an assistant for the 1977 Summer Festival. Fred Lehto answered the call. When a job as Hughes's fulltime assistant opened up in 1978, Fred answered that call, too. He's been answering the call ever since. When Fred Lehto retires at the end of this month after an astonishing 43 years of employment, he'll leave behind a record of service that is unlikely to be matched by any other employee of the Music Academy of the West. He'll also leave behind a record as one of the most helpful, kind, and truly generous people to ever grace the Academy's halls.
***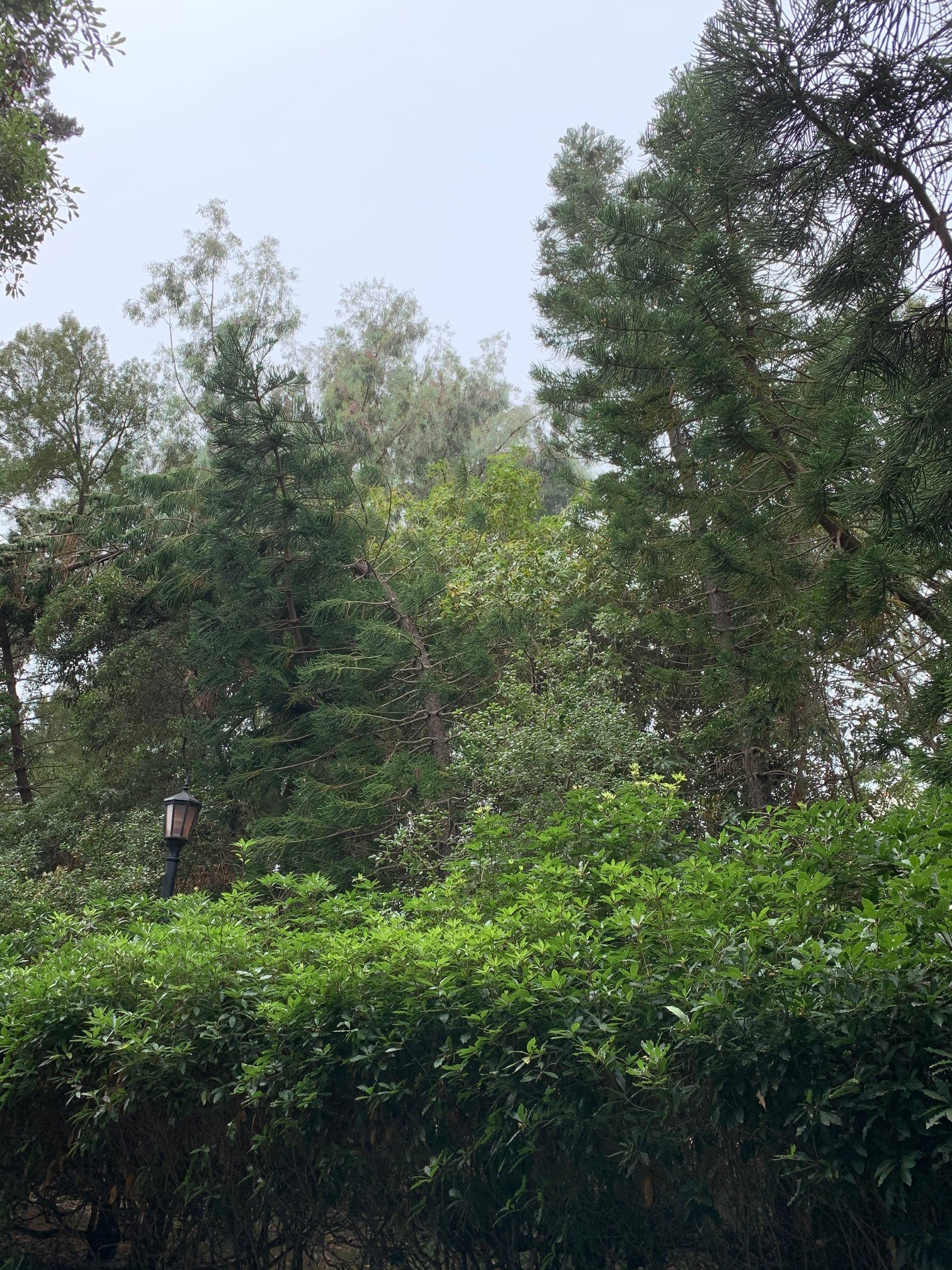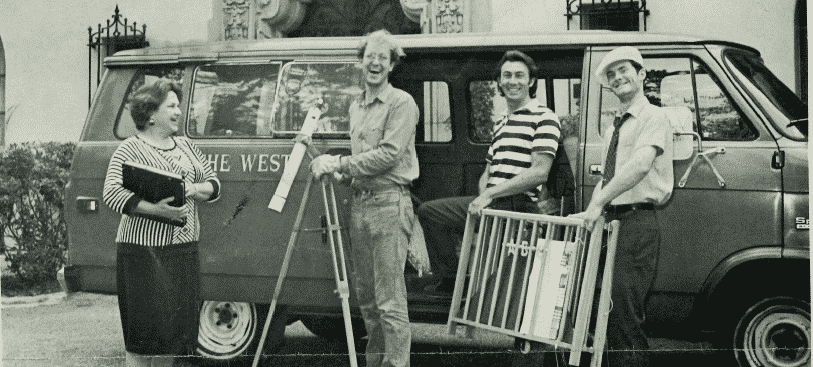 Things were different at the Academy when Fred started in 1978. There were fewer buildings, for one, and those which stood on the campus bore names unfamiliar to our modern audiences. Young pianists had their lessons in Stewart Hall, a room we now know as Yzurdiaga Hall. The Luria Education Center, Hind Hall, and Claeyssens Hall did not yet exist. And in the center of campus stood Abravanel Hall, the precursor to Hahn Hall that looks so dissimilar to its current form as to be nearly unrecognizable. Fred is also quick to point out that there were other differences, as well. Outside of the annual Summer School and Festival, things were less busy. "I would say less busy is an understatement," Fred remarked with a wry smile during a recent interview. "There was nothing that went on." During that time, Fred and the facilities team – Alan Hughes and one other worker – did everything on campus from the maintenance to the gardening.
Outside of his work keeping up the Academy's campus and grounds, Fred continued to pursue his passion as an entertainer, headlining several Santa Barbara-area bands. There was The Tom Foolery show, a Spike Jones-style musical comedy act that featured Fred's vocals beginning in 1978. "I changed costumes six times per night," he says of his Tom Foolery days. Then came a Django Reinhardt-inspired band called The Hot Club. But the biggest success was a four-part vocal harmony group called High Society, which was frequently heard at Santa Barbara staples like Coral Casino and the Biltmore (and, Fred is quick to point out, a few weddings at the Music Academy). At a performance in Ventura, High Society caught the attention of a team of cruise ship entertainment managers, and with their help and encouragement made a demo video for prospective bookers. The band, newly renamed Cloudburst, was signed for their first cruise in 1984.
The lack of offseason events and programs at the time afforded Fred the luxury of taking sabbaticals from his work at the Music Academy. Cloudburst performed on cruise ships in '84 and '85, then in Las Vegas in '85 and '86, mostly at The Dunes Hotel and Casino. But then one of Cloudburst's members tired of life on the road and called it quits. There were a few temporary members, but the group wasn't the same after that. A band like Cloudburst is a well-oiled machine, dependent on the interplay of four singers who know each other's musical sensibilities intimately. The parade of substitutes spelled the end for Cloudburst, which broke up for good in the late 1980s. During this same time, though, Fred had become involved with another outlet for his creative passions: the Santa Barbara Civic Light Opera. He played a small role in their first show – Showboat – in 1984, then worked his way up to lead roles. Although much of the cast for these shows were local volunteers like Fred, the Civic Light Opera had an apprentice program that allowed the actors to earn credit toward membership in the Actors' Equity Association. By 1994, Fred had earned enough points to be paid for his role as Horace Vandergelder in Hello, Dolly! When asked about his favorite role at the Civic Light Opera, Fred paused for a long time. "It depends on what you mean by 'favorite role.'" The difficulty choosing is indicative of the sheer number of roles he did over his years. The Cowardly Lion in The Wizard of Oz is a standout, certainly, but the one he spoke mostly highly of his experience playing the role of the villainous Fagin in the musical Oliver! Union rules required the use of two full casts of children, which meant the director had his hands too full to provide much guidance to the veteran adult actors. Fred was given free reign.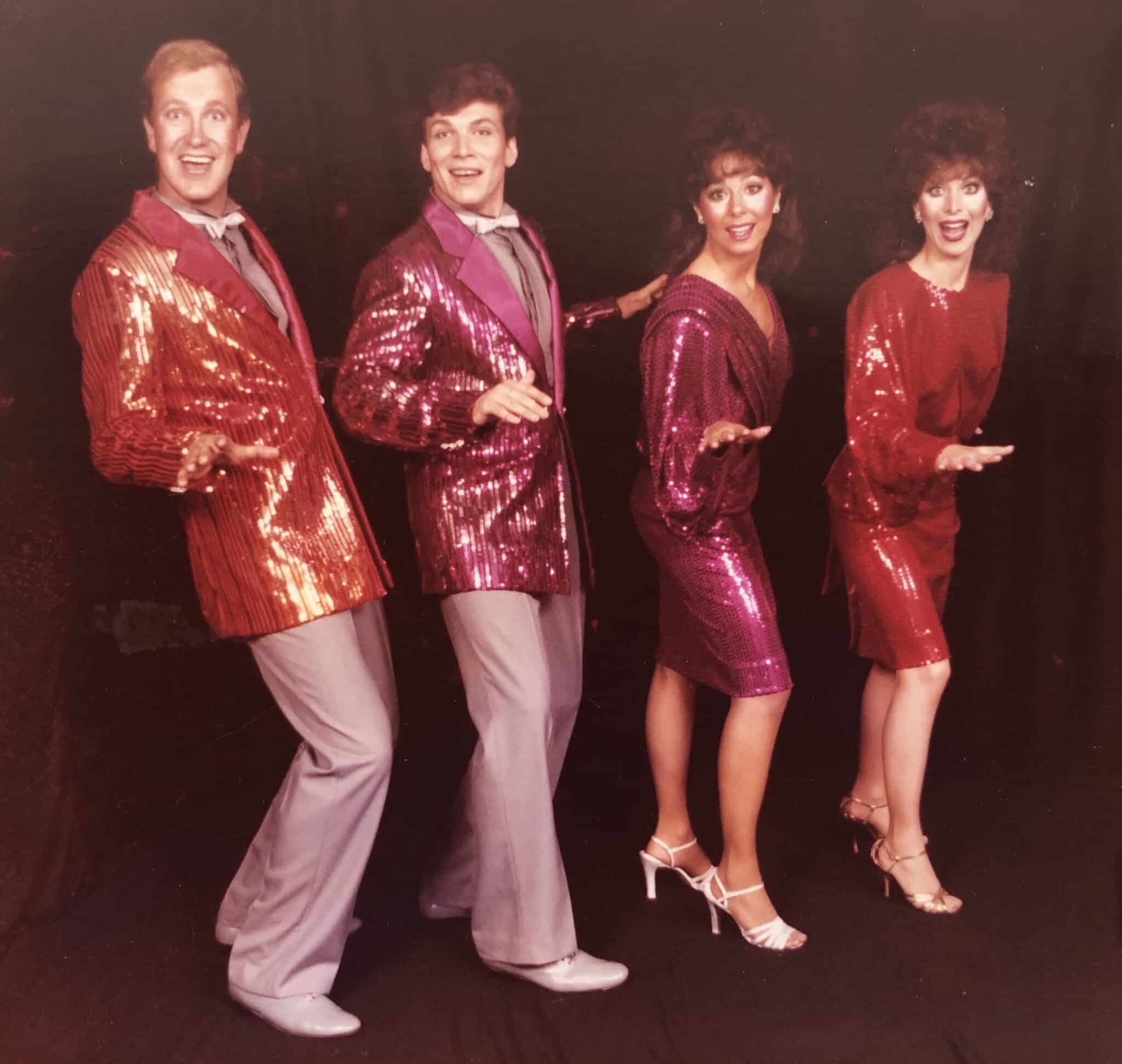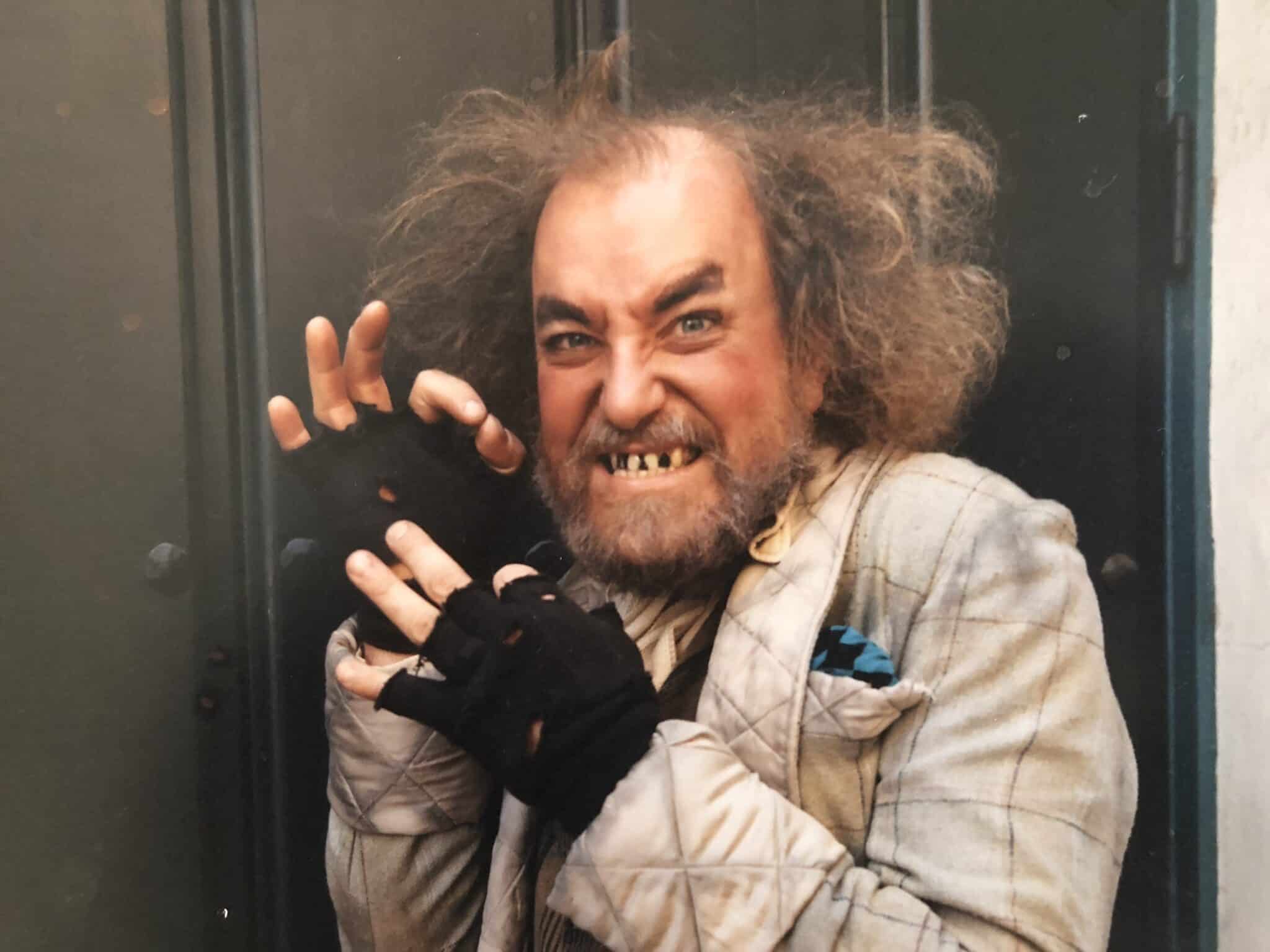 "I had the most fun, because there was no director in my ear. I saw what needed to be done and I did it. And I had a blast." Plus, the character was just fun. "You know, playing an evil bad guy is a treasure," Fred recalls with a mischievous glint in his eye. "An audience loves a guy who isn't doing the best things. I had fun playing the bad guy." Anyone who has ever met Fred Lehto knows that he's about as far from a bad guy as your likely to find. In fact, to get into character as the sinister Jud Fry in Oklahoma! – a role for which Fred won a Los Angeles Drama-Logue Award – he dyed his hair black and tried to be as unfriendly as possible to his castmates in order to break his typically likeable demeanor. Fred was involved with the Santa Barbara Civic Light Opera for at least 15 years. Some years he did no shows, others he did as many as two. This made for an incredibly busy schedule, working at the Music Academy by day and rehearsing for hours on end at night. But as those who have worked with him at Music Academy know, Fred doesn't operate in half measures. He's all in, all the time.
That willingness to put his whole heart into every endeavor was certainly evident during his brief stint on the silver screen. While portraying a background singer in the 1991 film Bugsy, Fred got together with his fellow extras to plan out a song and dance routine for their performance. This initiative-taking move was such a hit with the director that Fred and his colleagues were rewarded with screen credit. And during filming for the 1995 film Steal Big Steal Little, Fred – playing a character known only as The Strange Man – realized that his one line as written had the potential to create an awkward continuity issue. So he improvised. It was a risky move, no doubt, but the director loved it.
***
This is what Fred has done at the Music Academy of the West for 43 years. He sees things that are broken or out of place, things others might miss. He fixes these things without needing to be asked. And he improvises, coming up with solutions on the fly. "So much of my job is seeing problems and taking care of them, whether I'm asked to do them or not. One of my daily things I do is walk around the campus, just to see if everything is in order. Anyone who comes here, I want them to see our campus at its best." For four decades he has poured his heart and soul into the Music Academy, just as he has done with acting and singing. He's seen a lot of history in those decades and made a lot of memories along the way. "Working at Music Academy for 43 years I've gotten to see so many things change. I saw the campus change; Claeyssens Hall was just a field when I started here, and Don Quixote Courtyard was a relic. I witnessed the big renovation of Hahn Hall and the Main House. I saw the Music Academy grow in status from a music school where half of the students paid to be there to being a full scholarship institution. I've seen the quality of the fellows go up and up over the years. To be a part of that gives me great pride." Through it all Fred has been there, walking the campus, spotting small problems before they become big ones. And all the while, he's been listening. Imagine just some of the many, many greats he's heard along the way. Reginald Stewart. Marilyn Horne. Jerome Lowenthal. "To hear Reginald Stewart play when nobody else was around and I would stand at the door, I would get my own personal concert. That was a bonus for me. They didn't know I was standing behind the door, listening to the most intimate performances of these pieces. To listen to Jerry Lowenthal rehearse, for example, was amazing! That's a bonus that I really enjoyed. Being the sole audience for many of these world-class musicians. That ability to see the creative process is a treasure. It really folds over into my life, the hard work that is needed to get something creative done. It doesn't just happen. You have to put in the work."
***
How do you measure the impact of any one person on an organization? It's hard, doubly so when that person has been become a part of that organization's very DNA. When I asked Fred what he thought was his biggest impact on the Music Academy, he replied, "Consistency. I've always been proud of my ability to be there when I'm needed. I also always liked that my job was to be there to help anybody at the Music Academy if they asked. I've always enjoyed being there to help." That's an impact of which Fred can be proud, to be sure. But it's not his biggest impact. His biggest impact can't be measured in days worked or in jobs completed, and it has nothing to do with unused sick days (and he has a lot of them). When his retirement was announced to the Academy administration during a recent Zoom meeting, the comments from his coworkers were all variations on a theme. "He's always smiling." "He would do anything for anyone." "In all my years, I've never known Fred to be in a bad mood. Not even once." That is the true impact of Fred Lehto. Not the impact of an employee on the place where he works, but the impact of person – one who is warm-hearted, generous, truly one of a kind – on the people he's touched along the way.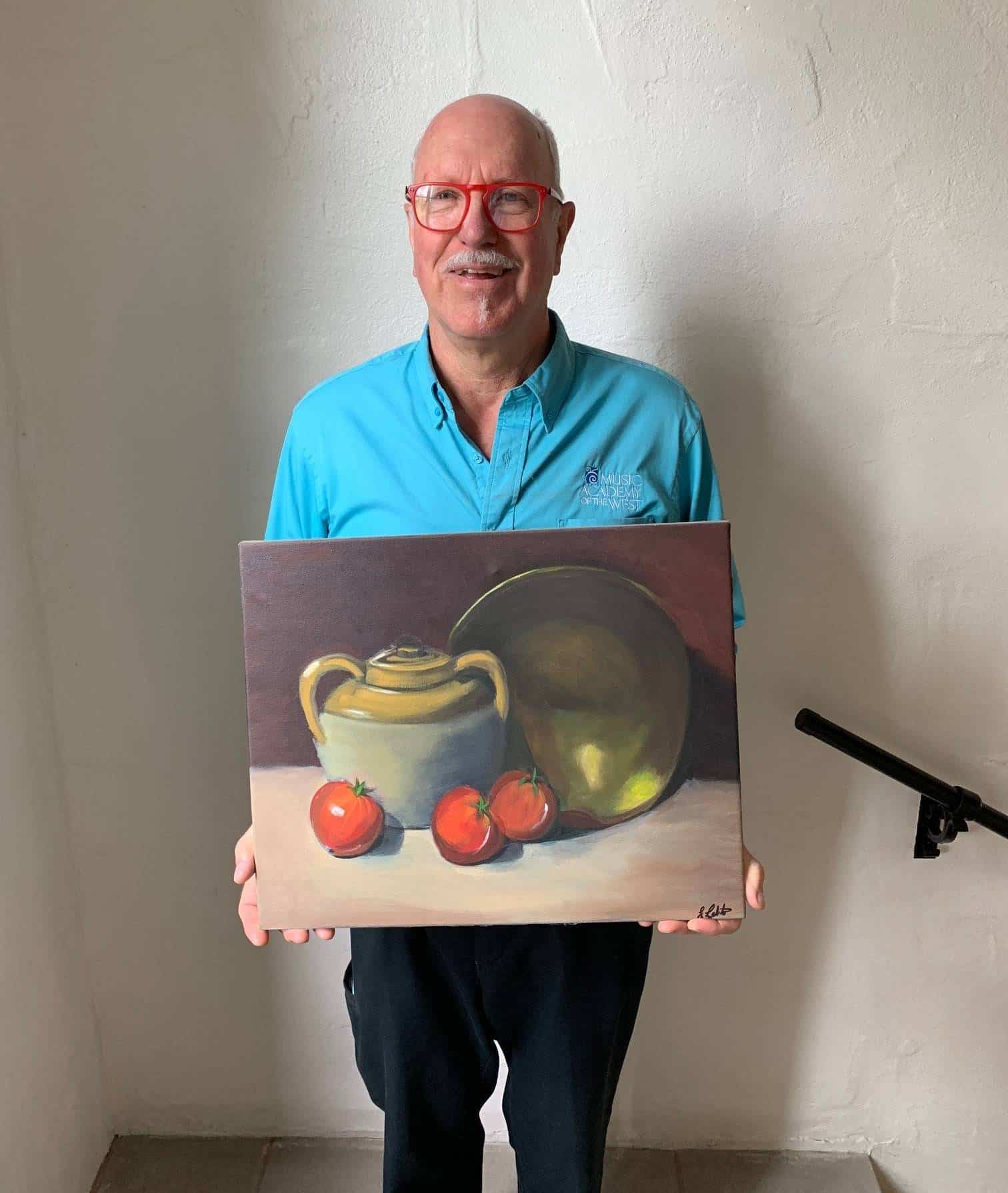 ***
A new chapter begins soon for the Music Academy as one of its employees – one of its family – makes his exit. Fred Lehto has been with the Academy for 58% of its 73-year existence, and it's more than a little bit hard to imagine the place without him around. The halls will be a bit quieter without the ringing sound of his friendly, "Whaddya say?" The phone calls will have a little less personality without him on the other end saying, "Hey, hey…Freddy here!" And the Academy will certainly lose a few style points without his meticulously color-coordinated outfits. It's a new chapter for Fred, too. When I asked him how he plans to spend his hard-earned retirement, it was clear that it won't be a less busy chapter. "I have a suite of melodies in my head. I want to continue writing more music." (Fred taught himself to play piano by ear many years ago after being inspired by some of the Academy's great pianists.) He also plans to paint, garden (he grows beautiful orchids), and "explore the creative side" of himself in clay and jewelry-making. And, of course, he'll be spending a lot of time with his wife, Paula. We'll look forward to still seeing him around the Academy, as well; he has an open invitation to visit with our pianos any time he likes.
***
Fred and I talked for an hour and a half about his life and his years of experience at the Music Academy, and I had the feeling that we could have easily talked for an hour and a half more. As we concluded our chat, I asked him to show me those Norfolk pines, the ones he planted in the 1980s. He was, of course, only too happy to oblige. Standing beneath them, it was somewhat hard to imagine that they were once only as tall as him. It wasn't hard to imagine Fred having been there to plant them, though. For me and the others lucky enough to have worked with him, Fred is as much a part of the Academy's landscape as the buildings and grounds themselves. As we made to leave, Fred noticed something wrapped around one of the pines. "This will strangle this tree if we aren't careful," he said, a tone of concern creeping into his voice. "I'll have to let the gardeners know about this." Even as he looks toward retirement, he's still looking and fixing. – Henry Michaels Resonance editor, Audience Services and Community Access Manager, Music Academy of the West
---