discerning –
a musically-informed audience
appreciative –
an audience that recognizes the artistic worth and merit of varying works
adventurous –
an audience that is willing to be challenged and to try new things These carefully chosen words of the Music Academy's mission statement are at the core of how we approach our relationship with our audience. It is in that spirit of discernment, appreciation, and adventurousness that we offer these playlists for you to explore on your own. Be sure to check out our
previous playlists
!
LISTEN TO THE PLAYLIST
Giving gifts to teachers – it's a tradition as old (and as wholesome) as apples themselves. After all, who among us hasn't – often before holidays or on the last day of the school year – handed their teacher a small trinket, a box of sweets, or an envelope lovingly stuffed with a Cheesecake Factory gift card? Some of the best gifts, though, are handmade, like a child's haphazardly scrawled drawing, freshly baked cookies, or a three-movement work written for a large orchestra.
Yes, you read that right. While most students opt to go with simpler gifts, there's a long history of composers dedicating pieces to their teachers. Here are just a few.
Alban Berg – Three Pieces for Orchestra
To say that Austrian composer Alban Berg (1885-1935) had a famous teacher would a bit of an understatement. Arnold Schoenberg (1874-1951) was one of the seminal figures of twentieth century composition, a composer and music theorist whose ideas forever altered modern music. Berg is so widely associated with his teacher, in fact, that they are collectively – along with Anton Webern, Schoenberg's other most famous pupil – referred to as the Second Viennese School (the first "school" being Haydn, Mozart, and Beethoven). Alban Berg studied with Schoenberg starting in 1904 but didn't begin taking composition lessons until 1907. The relationship between student and teacher was a difficult one. Berg longed for his teacher's approval, a wish that was seldom granted by the hard-to-please Schoenberg. In 1910, Schoenberg even wrote that although "Alban Berg is an extraordinarily gifted composer . . . He was absolutely incapable of writing an instrumental movement or inventing an instrumental theme." Instead, Berg preferred to focus on songs for voice and piano, but even those were often harshly criticized, so much so that Schoenberg's opinion of one of Berg's song sets led Berg to write that he had been "[robbed] of almost all hope." Berg's Three Pieces for Orchestra – which bears the dedication, "to my teacher and friend Arnold [Schoenberg] with immeasurable gratitude and love" – was in many ways a response to his teacher's past criticisms, specifically in that it's an instrumental work that isn't short (Schoenberg's hope-robbing criticism is thought to have been based on the brevity of the songs in question). He wrote the work in 1914 and sent them to Schoenberg for his 40th birthday along with a note that read:
"I have truly striven to give my best, to follow all your incentives and suggestions, whereby the unforgettable, yea revolutionizing experiences of the Amsterdam rehearsals and thorough study of your orchestra pieces [Op. 16] served me boundlessly and sharpened my self-criticism more and more."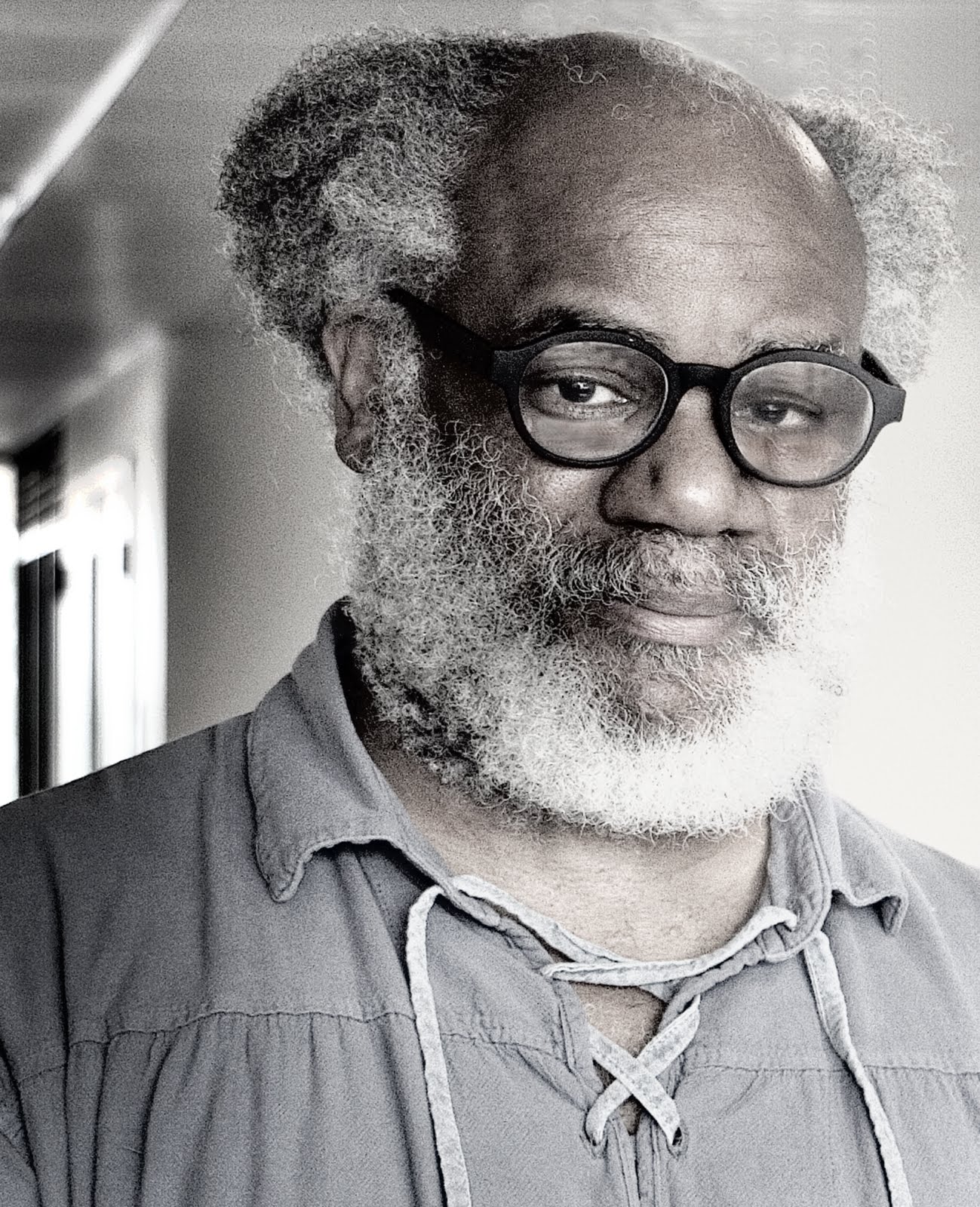 Jeffrey Mumford – Two Elliott Carter Tributes
It's not coincidence that Jeffrey Mumford (b. 1955) appeared on last week's playlist, too, as the idea for this week's theme emerged in listening to some of his music. Mumford, who studied with composer Elliott Carter (1908-2012) in New York City for three formative years, has dedicated several pieces to his esteemed teacher, including his Duo Concerto. For this playlist, though, I've chosen pieces that were expressly written for Carter, rather than just dedicated to him. There are several options here, too, more than one of them written in honor of the extraordinarily long-lived Carter's 100th birthday. Although written at different times, Mumford has combined two of these works into his Two Elliott Carter Tributes. For Elliott – a short piece for solo piano, as sparse as it is serene – was written between 1983 and 1984, when Mumford was in his late twenties and around the time he would have been studying with Carter. The second piece, A celebration of Elliott, dates from more than two decades later and was commissioned by the Network for New Music for Carter's 100th birthday.
Maurice Ravel – Piano Trio
Whereas Schoenberg and Carter are both far more famous as composers than as teachers, French composer André Gedalge (1856-1926) is more known for his role as an educator. A list of his pupils reads like a veritable who's who of early-twentieth-century French music: Jacques Ibert, Darius Milhaud, Arthur Honegger, Florent Schmitt, Nadia Boulanger (herself a composition teacher of great repute who would someday boast an equally impressive list of students), and Maurice Ravel (1875-1937). Ravel always credited Gedalge as a major influence on his musical style, and he thanked Gedalge for his mentorship by dedicating his Piano Trio to him. Ravel was working on the piece when World War I broke out in 1914, then, according to his friend, rapidly finished the Trio in the span of five weeks before volunteering for the French army. No doubt Gedalge was proud of his former student's ability to work on a deadline.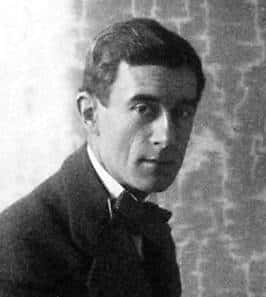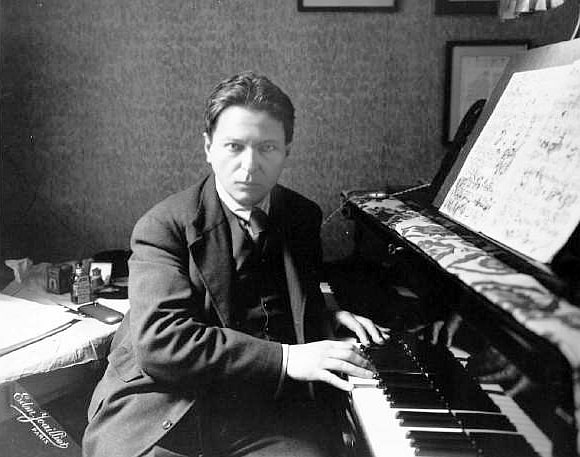 George Enescu – Octet
It seems that Ravel wasn't the only one of Gedalge's students who was enamored enough with his mentorship to dedicate a piece in his honor. (Hey, when you have a lot of students, it makes for a lot of potential opportunities for dedications.) Romanian composer George Enescu had a warm relationship with Gedalge, with whom he studied counterpoint and fugue at the Paris Conservatoire. But he may have had an additional reason for dedicating his Octet for strings (1900) to his teacher. Gedalge, it seems, was particularly helpful in convincing a French firm to publish the Octet, so Enescu thanked him in that time-honored tradition: with an inscription on the title page.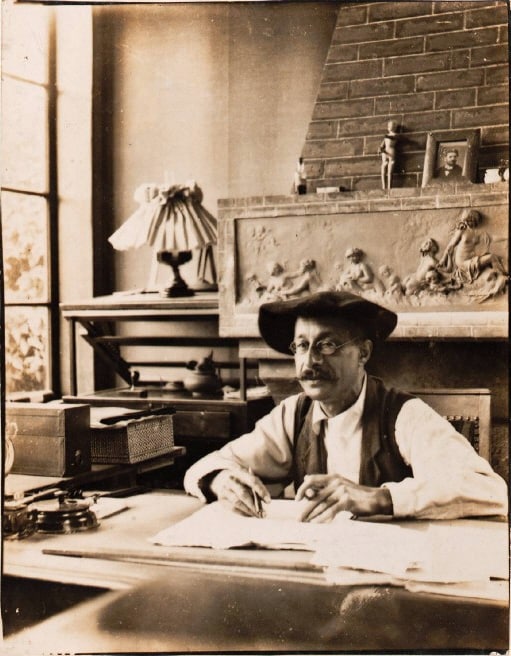 – Henry Michaels
Resonance
 editor, Director of Audience Experience and Engagement, Music Academy of the West
---
Sources:
https://www.universaledition.com/alban-berg-51/works/3-orchesterstucke-op-6-455
Douglas Jarman, "Berg, Alban (Maria Johannes)," in
Grove Music Online
https://nmbx.newmusicusa.org/jeffrey-mumford-creating-a-different-world/
http://www.jeffreymumford.com/p/works-and-first-performances-ii.html
Barbara L. Kelly, "Ravel, (Joseph) Maurice," in
Grove Music Online
Noel Malcolm, rev. Valentina Sandu-Dediu, "Enescu, George [Enesco, Georges]," in 
Grove Music Online