Ana has made many significant contributions to the Music Academy over the past six years both in programs and community relationships. Recognizing her leadership to the organization and her commitment to our mission is an honor well-deserved. We are fortunate to have such a dynamic professional heading our Marketing and Communications department and serving as a strategic partner on our senior management team.
Music Academy President and CEO Scott Reed
Santa Barbara, CA — Music Academy of the West has promoted
Ana Papakhian
to the newly-created position of
Chief Marketing and Communications Officer
. Ms. Papakhian has served as the Vice President of Marketing and Communications for the Music Academy since 2014. Ms. Papakhian will have increased responsibilities in this new role from organizational decision-making to leading the Academy's upcoming 75th anniversary marketing strategy and conducting an organizational brand evaluation, while still overseeing the Marketing and Communication's administrative team and committee. Ms. Papakhian will also have increased oversight of the Music Academy's remarkable partnership with the 100+ member Women's Auxiliary. The core resource for volunteers has raised up to $100,000 annually to support the Academy's full-scholarship program and community access initiatives.
Itu2019s an honor to be a part of the Music Academy family. Iu2019m proud of what we accomplish together on behalf of classically-trained musicians and audiences. I sincerely thank all my colleagues on the administration for their teamwork and support and the Board for their investment and vision. Iu2019m especially grateful to the faculty, fellows, and all the people in the Sing! Program for the joy and humanity they bring us through their training and performances.
Programs under Ana Papakhian's leadership at the Academy have introduced the organization to new audiences. Ms. Papakhian initiated live video streaming and Community Access initiatives that make subsidized, discounted tickets available to all, and also free tickets for young people. The Academy's social media presence and digital marketing efforts have grown exponentially under her direction. In the spring of 2017, Ms. Papakhian's department launched a new website and ticketing system. That summer, her department sold out a record-breaking outdoor concert combining the Academy Festival Orchestra and the New York Philharmonic for 7,000 attendees. The COVID 19 pandemic has brought enormous challenges to every arts organization, including the Music Academy of the West. Ms. Papakhian has been a part of the senior management team actively guiding the Music Academy throughout this crisis, offering essential educational experiences for our fellows and community members online. 2020 initiatives included the launch of the first-ever
Music Academy Remote Learning Institute
(MARLI) and its
Concert Hall Online
content, widening the Academy's reach and keeping the lines of communication open throughout the virtual summer festival with daily blog posts and videos. Ms. Papakhian's team also implemented
Project Resonance,
a program providing public speaking training for Academy fellows and writing opportunities for fellows, university students, and administrators
.
Ms. Papakhian's team is responsible for the Academy's advertising, media relations, ticket sales, and facility rentals to 35 community organizations and music educators.
It has been a joy to work with Ana as a board member and now as the Marketing Committee chair. I have been so impressed and inspired by her work in elevating the Music Academyu2019s mission, extending its profile and reach, and super-charging its commitment to community access. I look forward to seeing even more of her incredible vision come to life in her new position.
Music Academy Board member and Lincoln Center Chief of Staff and Innovation Clive Chang
Ana's expert marketing leadership and steadfast support have impacted the Music Academy in countless ways. Whether offering guidance on public speaking or praising their on-stage successes on social media, Ana has always championed our fellows and alumni. With her extraordinary outreach efforts and audience development, the Academy's brand and recognition will continue to flourish.
Music Academy Vocal Institute Music Director John Churchwell
A native midwesterner, Ana Papakhian served as the Director of Communications for The Cleveland Orchestra and the Indianapolis Symphony Orchestra (ISO).
Gary Ginstling,
the former CEO of the ISO, calls Ms. Papakhian
"a strong and empathetic leader with great instincts and a strong strategic sense of the role of the arts in our communities."
I always said that Ana could run General Motors, and now she is one of the great movers at the Music Academy.
Music Academy Honorary Voice Program Director Marilyn Horne
Ms. Papakhian began her administrative career in New York City, where she worked for the Piatigorsky Foundation and the legendary mezzo-soprano, Music Academy Honorary Voice Program Director 
Marilyn Horne.
(Learn more about her history with the Music Academy and Ms. Horne in the blog post below.)
Ms. Papakhian holds a bachelor's and master's degree in voice from Indiana University. She is a proud graduate of the Interlochen Arts Academy. Ms. Papakhian has served as a Director and Vice President of the Board of Santa Barbara Strings, where she participated on the Fundraising Committee and coordinated publicity and promotion for student and benefit concerts.
---
About Ana Papakhian: Resonance Blog, "Hail to a Chief"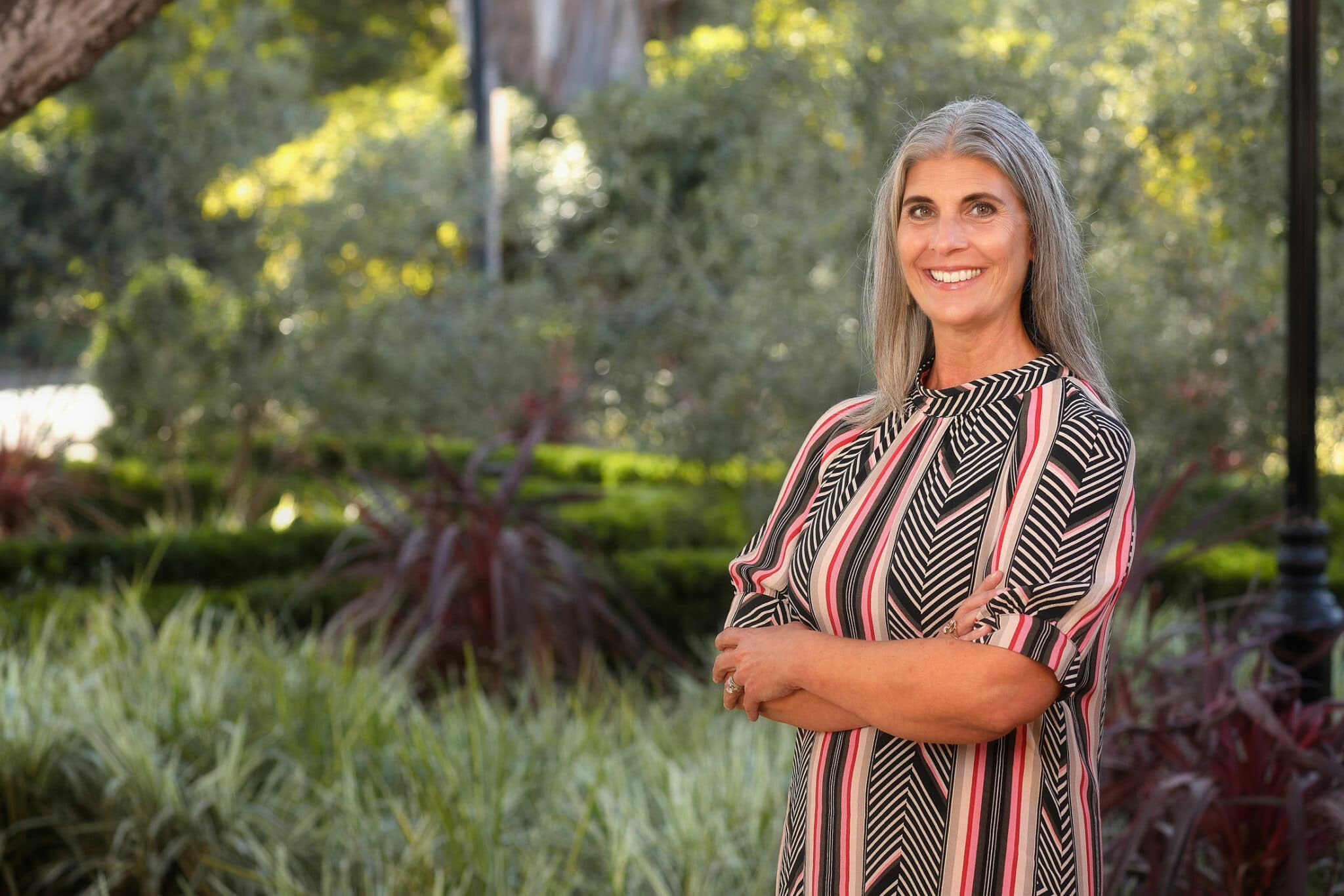 It was June of 1997, and the seaside campus of the Music Academy of the West was abuzz with typical Summer Festival activity. If things that summer seemed a bit buzzier than normal, though, it probably had to do with the increased prominence of one of the Academy's most celebrated alumni. In a defining moment for the organization, Marilyn Horne ('53) had recently been named as the Academy's Voice Program Director after spending two years on the regular faculty. In 1997, all eyes were on Marilyn Horne. But little did anyone know that another of the Academy's most impactful women had arrived that summer, as well, and she was busy taking it all in. "My first impression of the Music Academy of the West was its physical beauty," recalls Ana Papakhian. "I had never been to California before, and I thought the beachside campus was paradise. But mainly I was impressed by the fellows. I remember sitting in masterclasses and knowing they could be the next generation of superstars. That was humbling. I also learned a lot myself in those masterclasses. Witnessing the fellows in all areas improve over that summer proved what the Academy was trying to accomplish." Twenty-eight-year-old Ana Papakhian spent that summer – and each of the next four – at the Music Academy in her capacity as Marilyn Horne's personal assistant. After her nearly five-year stint with Horne, she moved on to a series of other jobs in arts administration. But she never stopped thinking about the Music Academy of the West. "No matter where I worked, I always had a deep passion for the classical music industry, but in my heart, I knew I wanted to return to the Music Academy." Reader, she did return. And what a return it's been. The entire Music Academy family is proud to announce that after a successful six years as the Academy's Vice President of Marketing and Communications, Ana Papakhian has been promoted to the position of Chief Marketing and Communications Officer ….
CONTINUE READING
---
About Music Academy of the West
Founded in 1947, Music Academy of the West offers year-round programming for the local community and talented musicians from around the world. Each year, 140 fellows ages 18-34 are selected by merit-based audition from more than 2,000 applicants worldwide to participate in an eight-week Summer School and Festival to prepare them for 21st-century careers. At the Summer Festival, they receive opportunities for advanced study and frequent orchestral, chamber, recital and masterclass performances under the guidance of more than 70 internationally renowned faculty and guest artists. Each fellow receives a full scholarship for tuition, room and board. In 2018, the Music Academy began a partnership with the London Symphony Orchestra (LSO) that brings LSO musicians to Santa Barbara, to teach and perform, and sends twelve Keston MAX Fellows to London for ten days of training and performance with the orchestra. Career-launching opportunities for fellows and alumni are offered through the Academy's Innovation Institute. Summer Innovation Seminars bring together industry leaders and cutting-edge artists to engage fellows and audiences in discussion about the present and future state of classical music, while the annual Fast Pitch Awards give fellows a platform to present their entrepreneurial ideas. The Academy's Alumni Enterprise Awards have provided more than $220,000 in grants for forward-thinking projects in artistic expression, audience development, education, community engagement, social justice and technology; recipients of the awards are also invited to attend a five-day Innovation Residential. Academy alumni create careers in music and beyond and are members of major symphony orchestras, chamber orchestras, ensembles, opera companies, and academic faculties throughout the world. Music Academy of the West also provides music education locally through
Sing!,
a free, after-school choral initiative for seven-to-twelve-year-olds from 28 schools in Santa Barbara County. The Academy presents more than 150 public events annually in four campus venues and in sites across Santa Barbara and online. For more information, visit
musicacademy.org.
---
photos by Phil Channing
Released: November 12, 2020 Kate Oberjat Director of Marketing and Communications Music Academy of the West
koberjat@musicacademy.org