Please enjoy the program notes for tonight's Mosher Guest Artist Recital with Sasha Cooke. These program notes were created as part of Project Resonance, the Music Academy's unique program combining writing training with public engagement. Through this initiative, both Academy fellows and young scholars from UC Santa Barbara are given the opportunity to work on program notes and other written materials for the Summer Festival. *** A MESSAGE FROM THE ARTIST It was the summer of 2002 and I was off to the Music Academy of the West, my first summer program and the first summer away on my own. "The" Marilyn Horne had heard me sing and actually accepted me into her program. Already my mind was blown but little did I know how much more the Academy would make an impression on me. At 19 years old, I was surrounded by singers older and more experienced than I was. Not only were their performances nuanced and expressive in ways I didn't know but their passion for singing totally inspired me. Then there was the faculty! I'll never forget my masterclass with Warren Jones. Warren approached me on the sidewalk near the Lobero Theatre one day and said, "Have you sung much Strauss? I want you to sing All mein Gedanken and Wie sollten wir geheim sie halten in my next masterclass. 'Ok?' I thought, 'All mein gewhat?'" And of course I learned so much from him. He taught masterclasses in a way I had never witnessed and that still holds true. My parents have joked that after that summer, I never left the practice room. They noticed I suddenly stopped shopping and started getting serious about music. In this recital, I would like to devote the program to Marilyn Horne. All of the pieces are connected to women's stories and words and it finishes with a new song by Kamala Sankaram with text by Mark Campbell. Marilyn Horne was one of the first singers I discovered who drew me to pursue singing. On a human level I have always been inspired by her devotion to young singers and nurturing talent. Years later, she still comes to my performances and asks about my family. I am forever grateful to her and to the Music Academy. – Sasha Cooke
---
CLAUDE DEBUSSY Les Chansons de Bilitis  "The poetry of Bilitis is not unknown to me. For a long time, I have considered her a personal friend," a professor of Greek archaeology writes to Pierre Louÿs in response to his Les Chansons de Bilitis, a translation of a set of poems discovered in the tomb of sixth century Greek poetess and Sappho-contemporary, Bilitis. The only catch? The original poems along with their supposed author never existed. These 143 poems, grouped into three sections of Bilitis' life (her childhood and earliest sexual awakening, her time on the island of Lesbos and relationship with a woman, and her life as a courtesan in Cyprus) are perhaps best known for their eroticism and then-controversial exploration of homosexuality. As it turns out, Pierre Louÿs fabricated their entire origin story. And even though he fooled some experts, much of his audience knew, or at least suspected, the dubious nature of his source material.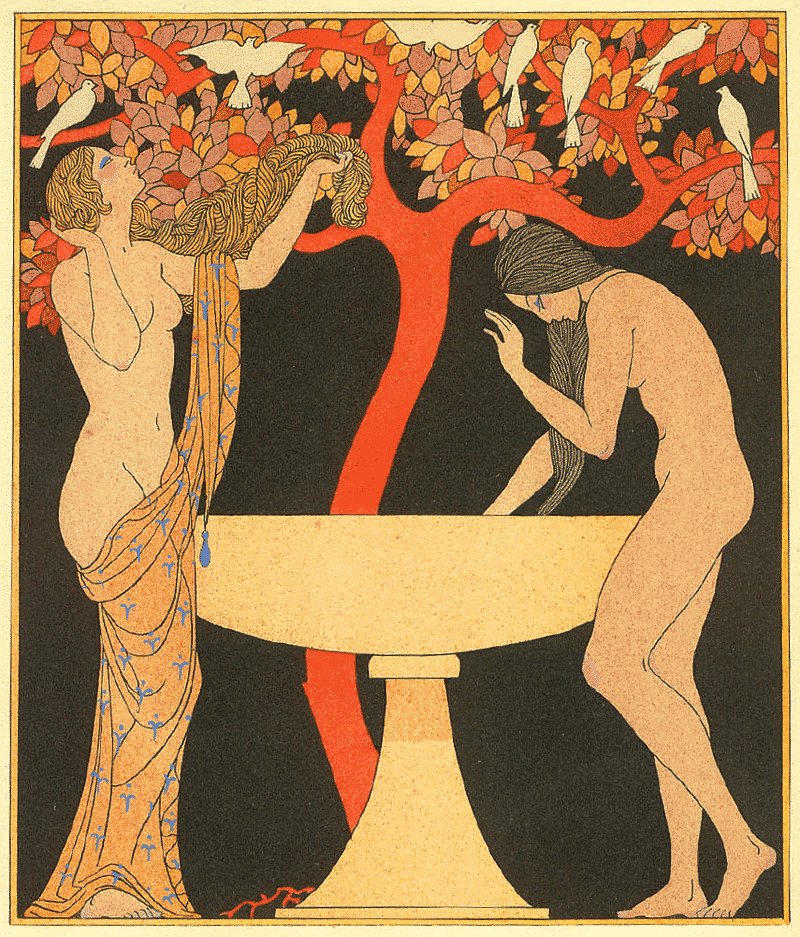 But why choose pseudotranslation as an expressive form? Certainly, Louÿs enjoyed toying with the academic elite and their fascination with and reverence for the ancient world—claiming that just as his work was entrenched in historical invention, so too was academia. In what might be considered an early ancestor of the modern internet troll, when an unfavorable reviewer claimed to find anachronism in the work, Louÿs cited him in his faux scholarly bibliography in a later edition of the text. Also included was a fictional archaeologist named G. Heim, which only some were able to recognize as the pun that it was—on the German word geheim, meaning secret. Besides demystifying the academic elite, Louÿs' work was transgressive in its treatment of erotica and lesbianism. He writes that most literary lesbians are femme fatales, but that his Bilitis is an idyll, both normalized and revered. However earnest this intent may have been, the modern reader can't help but wonder if Louÿs' intensely voyeuristic tone ever strays very far from the patriarchal norms of the time. While it is clear Louÿs was catering to a heterosexual male audience, his Bilitis would serve as a muse for many lesbian writers that follow. Particularly of note is Renee Vivien, whose own translation of Sappho's poetry does much more to subvert the male gaze, centering instead the female experience. Contemporaries and friends, Pierre Louÿs and Claude Debussy gained much from each other artistically and personally. Debussy, enamored with Louÿs' joie de vivre, bohemian values, and financial freedom, and Louÿs, avid lover of Debussy's music and a student himself of piano and violin, found in one another a kindred spirit. It was only natural, then, that when a literary magazine commissioned Debussy to publish a new piece, he decided upon three of Louÿs' Chansons to set to music.
What then becomes of our Bilitis—a fictional poet whose invented history was transcribed, translated, and now adapted into music? Perhaps Louÿs' veil of authenticity is still at work and, in listening to this song cycle, it is Louÿs' poetry that transports us to a world of Greek mysticism and ancient pleasure. Or maybe it is Debussy's richly chromatic and deliciously sensuous harmonic language that fully legitimizes her, deepening her story in a way only music can. Whatever the case may be, Bilitis—once a figment of a man's imagination—has surely taken on a very real life of her own. – Kaileigh Riess, Academy fellow, soprano
---
HECTOR BERLIOZ La Mort d'Ophélie  There is perhaps no more famous death in all of literature than that of Ophelia in Shakespeare's Hamlet. It's a moment a moment of great pathos, one that has captured the imaginations of generations of writers, painters, and musicians. And yet the audience doesn't see it happen. Ophelia dies offstage. To say that Ophelia is a much-discussed character would be a massive understatement. Much of the analysis of her deals with her relationships with the men in her life, specifically Hamlet and Polonius, her father. Ophelia can seem at times almost a pawn in the deadly game being played by her father and her would-be lover, and in the end, she is driven mad by Hamlet's murderous actions. Then she exits the stage and simply falls into a river and drowns. French composer Hector Berlioz loved Shakespeare, returning to The Bard time and time again for inspiration during his career. He was especially enamored with Hamlet, once writing, "imagine anybody having lived forty-five or fifty years without knowing Hamlet! One might as well spend one's life in a coal mine." In fact, it was Hamlet that first introduced Berlioz to Shakespeare, when in September of 1827 he attended a performance of the play in Paris.
And it was this same production that introduced him to Ophelia and the woman who played her, the woman who would eventually become his own Ophelia—the Irish actress Harriet Smithson. "The impression made on my heart and mind by her extraordinary talent, nay her dramatic genius, was equalled only by the havoc wrought in me by the poet she so nobly interpreted," he later recalled (nevermind that he didn't yet speak a lick of English). Though Smithson had no interest in the young composer, for Berlioz, it was love at first sight. There is another word, though, that might be substituted for the phrase "love at first sight," particularly when that "love" is one sided: obsession. Indeed, Berlioz's fascination—his obsession—with Smithson was immediate, strong, and unhealthy. Thoughts of her consumed him for years, eventually culminating in his Symphonie fantastique, an orchestral work that tells the story of his obsession with, and eventual murder of, his "beloved." After finally meeting in 1832, Smithson and Berlioz were married in October of 1833. It was not to be a happy union. For starters, neither Berlioz's English nor Smithson's French were advanced enough to facilitate easy communication. But the bigger problem was of a more foundational nature: Berlioz's obsession had doomed their marriage before they ever met. The idealized version of Smithson that Berlioz had worshipped, that he had obsessed over for years, was nothing but a figment of his imagination. Scholar Hugh Macdonald writes that there was no "clear distinction [for Berlioz] between the real Harriet Smithson and the idealized embodiment of Shakespeare's heroines," which meant that any relationship between the two was doomed to "spoil in the glare of everyday reality." And how could it not? No real person can ever hope to live up to such unrealistic ideals.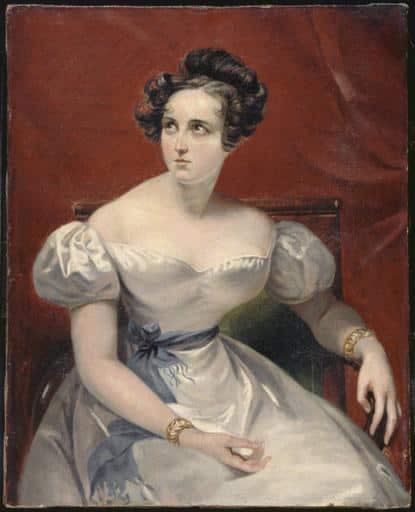 By 1842, the year in which Berlioz composed "La mort d'Ophélie," the two were mostly estranged, and Smithson officially left him in 1843 (meanwhile, Berlioz was already openly touring Germany with a mistress). Harriet Smithson died in 1854 after more than a decade of ill health. Hector Berlioz treated Harriet Smithson not as a woman, but as an ideal, a character in a drama of which he was the protagonist. She had once been his literal muse but was now simply someone to be discarded. In this way, Smithson also died offstage, her story so inextricably linked with Berlioz's that when she (very rightly) left him she might as well have been exiting the stage of history. Harriet Smithson, who had once portrayed Ophelia and who Berlioz sometimes referred to as "his" Ophelia, had now truly become Ophelia. Harriet Smithson is usually remembered solely in relation to Hector Berlioz. Berlioz, on the other hand, is often thought of as one of the classic examples of the Romantic conception of the Capital-A Artist: a troubled genius who created great art despite adversity. But much like Berlioz's idealized version of Smithson, the ways in which we mythologize composers has created an idealized version of Berlioz, albeit one that centers not his perfection but his pain. If Berlioz made Smithson into Ophelia, then perhaps we have made him into Hamlet. But what, then, of those people "offstage," those flesh-and-blood people who were left in the wake of a "troubled genius" like Hector Berlioz? What, then, of Harriet Smithson? She is, like many whose lives are entwined with those of "Great Artists," treated as something of an afterthought. Her life and the ways in which she is—or isn't—remembered should serve as a call to problematize "troubled genius" narratives, rather than valorize them. Let's start tonight by imagining this piece as a eulogy to another Ophelia. – Henry Michaels Project Resonance Blog editor, Director of Audience Experience & Engagement, Music Academy of the West
---
GIOACHINO ROSSINI Giovanna d'Arco Gioachino Rossini's Giovanna d'Arco was first written in 1832 following a bout of sickness. Although Rossini's title remains in the composer's native Italian, the figure whom this work is about will be familiar to most audiences: Joan of Arc. Joan of Arc, also sometimes referred to as the Maid of Lorraine, was a 15th century French woman who claimed to have received visions from various Christian saints that told her she must help France in their struggle against in the English in the Hundred Years' War. Although Joan of Arc was extremely successful in her military career, leading French troops in successful military operations, she was eventually captured and burned at the stake when she was only nineteen years old. In 1920, she was canonized as a Catholic saint by Pope Benedict XV.
Rossini's cantata about her, written several centuries after her death, was then dedicated to yet another woman: Olympe Pélissier, who would become Rossini's second wife in 1846. Although the fourteen-year difference between the piece's composition (and dedication) and the couple's eventual marriage might seem like a long time, they had good reason to wait: Rossini was already married at the time. Pélissier was known in France as a courtesan and art model and their relationship began as an extramarital affair until Rossini formally separated from his first wife in 1837. In many ways, the woman who served as the piece's artistic subject and the woman to whom the piece was dedicated seem entirely contradictory to one another. One was a French military hero, and the other was known for her sexual relationships with men. A literal saint and a sinner. The Madonna and the whore. Despite the great differences between the two, given Italian opera's relationship to women, this dichotomy may not have seemed so stark as it does to modern day audiences. To some degree, women's roles in opera have been viewed as encompassing both of these expressions of "womanness." In 17th century Rome, for example, the Catholic church had banned women from being on stage as performers and they were certainly not allowed to sing in front of an audience. Extreme measures were taken to ensure women were not needed on stage by replacing the higher vocal parts with castrati, or men who were castrated before puberty to preserve their high voices. This practice, which was eventually outlawed (which did not stop some castrati frome becoming famous opera singers throughout Europe), ensured that a female voice was not needed to sing each of the parts. Such restrictions on women's participation were not limited to the operatic stage. Many institutions in Italy restricted women's musical educations and careers well into the 18th century. This includes places like the Ospedale della Pietà in Venice, a "hospital" that would care for orphans or illegitimate children and provide some education. The Pietà in particular was known for its instrumental musical education and employed Antonio Vivaldi from 1703-1740. While young girls who showed promise were allowed to partake in the musical education, they were made to promise that they would never perform music in public after they had left. Protecting women's "purity" – whatever that meant to the individual institutions – was a high priority when thinking about women in music.
However, these restrictions placed on women's participation in the musical sphere were not universal. While the Romans may have been castrating their young men to avoid allowing women on stage, in 17th century Venice women were not only welcomed but celebrated on the Venetian operatic stages. Venice had a reputation at this time for being a city of sin and excess, much in the same vein as Las Vegas's image today. As a result, their rules around women being on stage were significantly laxer than their Roman counterparts. Women were able to make careers and some even became superstars of their time. Anna Renzi, for example, who started her career in Venice in the mid-17th century, eventually performed in several other Italian cities and in Austria, where her performance was viewed by Queen Christina of Sweden. Women like Renzi, who were praised for their vocal and acting abilities on the stage, were also able to exert some amount of control over the opera productions by using their star power to influence decisions such as the plot, the number of arias, and sometimes were even able to make demands about which composer they wanted to write the music. This Venetian form of opera eventually became the most popular and the role of the prima donna (the leading female soprano role in an opera) remained important into the 19th century when Rossini would write his most famous works. Although it may be tempting to view the juxtaposition of Joan of Arc and Rossini's mistress-turned-wife as glaringly mutually exclusive categories, these often-contradictory ideas about women have historically existed simultaneously within the world of musical composition for centuries. Perhaps, then, we should not view the song's subject and dedicatee as polar opposites but rather an encompassing of the myriad ways in which femininity has been thought about, composed, and performed throughout history. – Jillian Fischer, PhD Candidate, Musicology, UC Santa Barbara
---
AARON COPLAND Selections from Twelve Poems of Emily Dickinson Prior to composing Twelve Poems of Emily Dickinson in 1950, Aaron Copland (1900-1990) had not produced any works for voice and piano since 1928 and claimed he did not have any intention of writing a song cycle. In fact, he also admitted to having a certain disdain for poetry, saying that poets "were men who were trying to make music with nothing but words at their command." But Emily Dickinson was no man, and it seems that her poems deeply resonated with the composer. He made comparisons between her works and those of Gustav Mahler's, an inspiration of his, particularly in regard to their fascination with death and eternity, topics explored in this song cycle for mezzo-soprano and piano.
Composing music for poetry is not the only way Copland stepped outside his norm in this composition. Though early in his career he experimented with the avant-garde, during his later years he stepped away from this and became well-known for his quintessentially American works such as Appalachian Spring or Billy the Kid. He was dedicated to creating a more "populist" style, claiming that "the composer who is frightened of losing his artistic integrity through contact with a mass audience is no longer aware of the meaning of the word art." However, in Twelve Poems of Emily Dickinson, he harkens back to his previous, modernist style of music, perhaps feeling that it was more fitting for the subject matters at hand. On the program today are three selections out of the twelve total poems: the first, fifth, and eleventh. Though many of the poems and accompanying music have similar themes and musical techniques, each song can stand alone. In fact, only two of the songs in the entire cycle are related musically. Still, the cycle itself has unity in that the music is simple, almost austere. Across the board, Copland uses large spatial effects, short phrases and recitative, and sighing intervals that indicate sadness or despair. He also lets the music and text speak for themselves, using very little word repetition for emphasis. Copland was once quoted saying, "I hate an emotion-drenched voice," which is very obvious in his writing. Each song is dedicated to a composer friend. Nature, the Gentlest Mother is dedicated to American composer David Diamond. It has a pastoral feel to it, with high notes in the right hand of the piano that evoke birds chirping. In the middle, the music speeds up a bit to reflect the "rampant squirrel" or "too impetuous bird" before returning to a calm, lullaby-esque finish. Heart, We Will Forget Him! deals with the theme of lost love and is dedicated to French composer and pianist Marcelle de Manziarly. This song has often been compared to the works of Mahler, which Copland acknowledged though claimed was not intentional. In some ways, it has a folksong quality, and is beautiful in its haunting simplicity. Finally, Going to Heaven! is dedicated to German-American composer Lukas Foss, and explores the idea of the afterlife.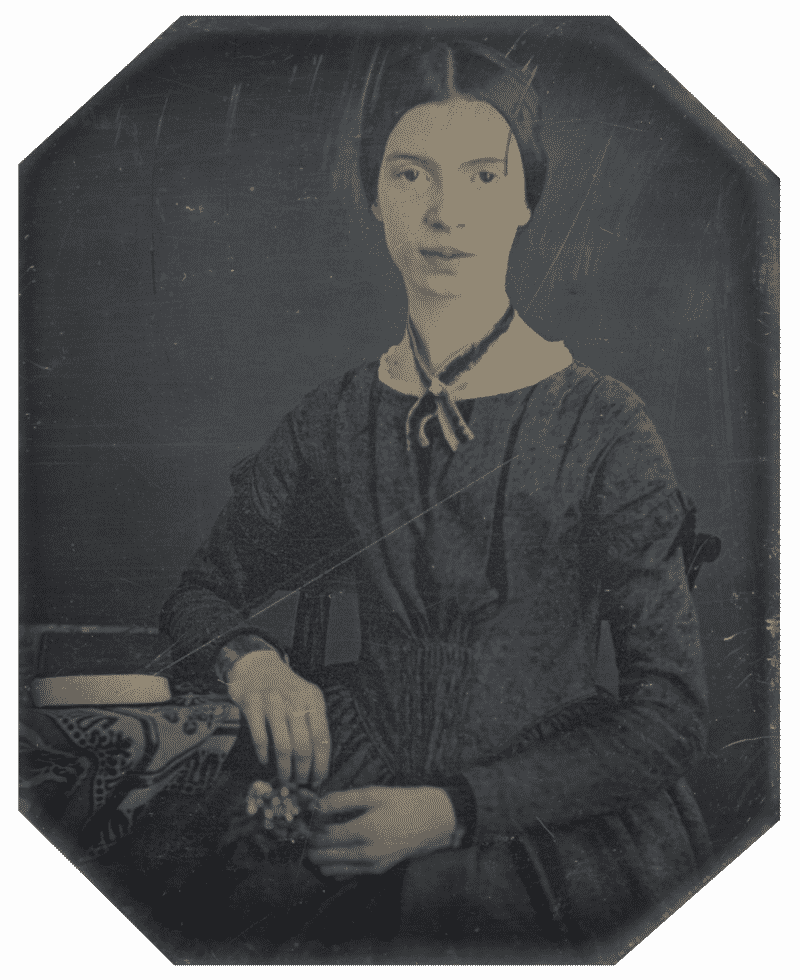 Oddly upbeat for a song about death, the lyrics express a dichotomy between being ready to go to heaven and wanting to see more of life on Earth. The piano has ascending lines throughout, which reflect the narrator's questioning attitude toward death. Copland acknowledges this song as one of his favorites, as it is quite different from the rest of the songs in the cycle in its lively nature. In Copland's plain but expressive writing, he deals with these heavy themes in a way that is not overly emotional but still acutely captures the essence of Dickinson's poems. – Elissa Brown, Academy fellow, flute
---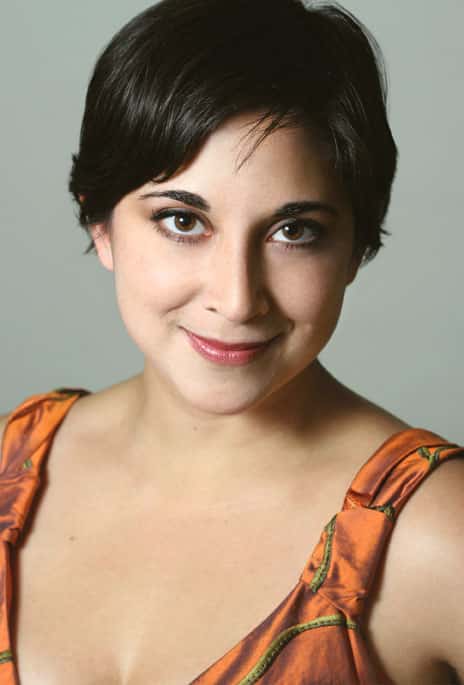 KAMALA SANKARAM Listen A few months into the pandemic, it became clearer with each day how little control artists would have over the near future. Cancelation after cancelation came in and the period of uncertainty and silence grew longer. For many of us, it felt like a loss of identity. Isn't music something intended to be shared and not made in isolation? I happened to be in touch with librettist Mark Campbell at the time who asked if he could share a lyric with me. We approached Kamala Sankaram about composing the song and Listen was born. In Mark's words, "following the murder of George Floyd and the Black Lives Matter protests, there was a lot of talk from well-meaning people. Listen is a gentle entreaty to those people to please give the voices we've silenced for so long a chance to speak." Here was a case in which isolation didn't keep Mark and Kamala from creating art. Art after all has always been a way for society to process and reflect on new challenges. I was so struck by this collaboration and how naturally it came together, I wanted to do more! With the help of a friend and patron in the Bay Area, we commissioned 17 new songs to be written. Listen was the inspiration for that project. Next season this program will be premiered on the San Francisco Symphony Great Performers series in Davies Hall on January 30th and be released on Pentatone records. I hope Kamala's and Mark's song will entice you to hear the other songs from this project. – Sasha Cooke
---