Staying connected is as important right now as it's ever been; in fact, it may be
more
important. In a world where social distancing remains the most appropriate course of action, finding ways to stay in touch with others is crucial. Even something as simple as a few rounds of trivia can be anything but trivial. Yesterday, Music Academy hosted a Trivia Night for the
Women's Auxiliary
and members of the Academy administration. Hosted by yours truly, it featured questions on Music Academy—and Music Academy-adjacent—topics. It was nice to sit down with a beverage of choice and catch up with friends old and new. Plus, it's always fun to engage in a little friendly competition! At the end of four rounds, the scores were tallied and the winners declared—a first and second place from both the Auxiliary and the administration. Their prize? A special wine delivery courtesy of the Academy. Oh, and bragging rights until the next trivia gathering. (As an aside, both Women's Auxiliary winners were Music Academy docents. Our docents are, to a person, awesome. Once it's safe to resume tours, you
have
to join them in an exploration of the Academy's past and present.)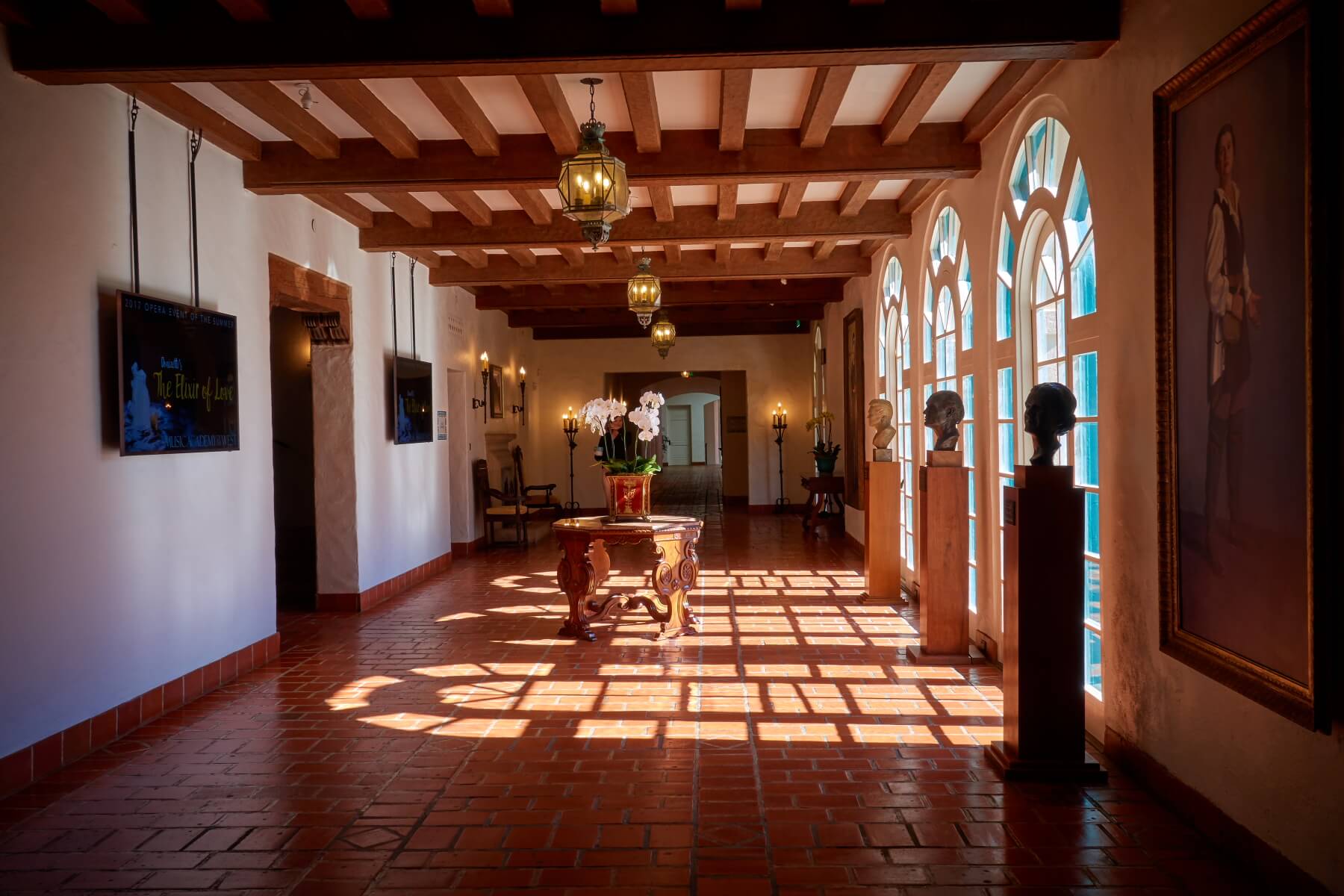 Want to join in on the fun? A round of trivia on Music Academy General Knowledge is included below so you can play along at home. If you'd like to answer the questions, visit our latest
Facebook post
and leave your answers in the comments! We'll reveal the answers early next week. – Henry Michaels
Resonance
 editor, Audience Services and Community Access Manager, Music Academy of the West
---
Music Academy General Knowledge
The Music Academy of the West "moved on up" in 1951 when it was gifted the property it currently inhabits. What was the name of the family who owned the property from 1915 to 1950?
She was a famed German soprano who helped guide the early success of the Academy's vocal program.
Named for a longtime music director of the Music Academy, this was this original name of Hahn Hall.
Just call us the "MAW" of La Mancha! The Cynthia Wood Memorial Fountain Court sometimes goes by another name, inspired by this title character represented in the courtyard's tiles (pictured.)
True or false: in large part due to his 50-year association with the Music Academy, Jerome Lowenthal is thought to have performed at downtown Santa Barbara's Lobero Theatre more than any other single performer.
Multiple choice: Two of the previous property owner's dogs are buried on the grounds of the Music Academy. Were their names: a) Tien Tze I and Tien Tze II, b) Santa and Barbara, c) Invader and Shadow, or d) Prince Harry and Meghan Markle?
Which of The Shops was founded first, The Rack or The Treasure House?
List the four people whose busts are on display in the hallway of the Main House.