Please enjoy this program note for a work featured on tonight's
Chamber Community Concert
. This program note was created as part of
Project Resonance
, the Music Academy's unique program combining writing training with public engagement. Through this initiative, both Academy fellows and young scholars from UC Santa Barbara are given the opportunity to work on program notes and other written materials for the Summer Festival.
BUY TICKETS
***
HENRI TOMASI Être ou ne pas être
Death and the end of life in general is a mysterious subject, and one that humans have grappled with and tried to understand the significance of since the earliest forms of civilization. Religion, philosophy, and, of course, art, have all offered attempts at making sense of the eternal unknown, turning the tragedy of the end of one's existence into a comprehensible phenomenon that can be embraced and processed more easily. Music is no exception. Unfortunately, when music historians and critics turn their attention to the final years of a composer's life and the music that they created during this period, too often the resulting analysis is one that overly mystifies the significance of the context of a particular work or works. This search for deeper sources of meaning comes across as attempting to justify an angle of research rather than follow the actual signs present in the context of a composer's lifelong trajectory. Regrettably, the opposite happens as well: a work that very likely was quite significant to its creator by means of it representing one of their last artistic efforts goes by unnoticed, lost in the tide of canonic figures that draw more attention from a research standpoint.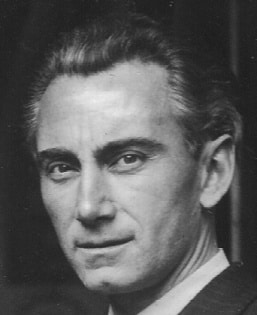 Such seems to be the case in Henri Tomasi's Être ou ne pas être for three trombones and a lower solo voice from 1970. Tomasi dedicated this piece to Paul Bernard (1912-1981), a tuba, saxhorn (small tuba), and bass trombone teacher at the Paris Conservatoire who commissioned many pieces written for these instruments for their end-of-year recitals, a tradition that yielded many great solo works and etudes for brass instruments in the French repertoire. At a quick glance, it is evident that this work belongs to the latter period of the French composer's life. More significantly, Tomasi had been convalescent for ten months due to a pulmonary edema diagnosed in November 1969. He knew that his time was running out, and knowing that, he revisited Shakespeare's Hamlet—a play where death is central. He wanted to set the entire plot to music, but the only thing to ever be published was the music for the iconic soliloquy "To Be or Not To Be", set for the unexpected instrumentation of a low brass quartet. The piece calls for three trombones and a lower solo voice which can be performed on either bass trombone—completing a traditional trombone quartet—or on tuba, as in the performance tonight. This piece exemplifies the idea that there are "canonifying" forces at play that dictate whether a piece of music will survive its time and become part of the standard body of works for a given instrument or ensemble. These forces also determine to a point the canonicity of the ensemble, resulting in a spiral of inequality: the fewer works, especially by reputed composers, that exist for a type of ensemble, the less likely the ensemble is to be held in high regard. The lesser the perceived reputation of an ensemble, the less likely that other composers will write for it. The number of pieces written for trombone quartet before the 20th century is painfully limited, which makes for a repertoire built mostly with contemporary pieces—not a bad thing at all—and transcriptions of music for other ensembles. Hopefully more dedicated research work from performers and publishers on pieces like this one will bring them closer to audiences, so that they can be understood and appreciated in the way composers intended. – Carlos Jiménez Fernández, Academy fellow, trombone
---