Richard Wagner's
Siegfried Idyll
will be featured on the Academy Chamber Orchestra concert conducted by Michael Tilson Thomas at the Granada Theatre this Saturday, July 17 at 7:30 pm. Get your tickets now for this concert, which also features William Grant Still's
Patterns 
and Johannes Brahms's Serenade No. 2.
BUY TICKETS
This guest post/program note comes courtesy of the Music Academy's partnership with the UC Santa Barbara Department of Music, a key part of 
Project Resonance
, a unique program combining writing training with public engagement. Through this initiative, both Academy fellows and young scholars from UCSB are given the opportunity to work on program notes and other written materials for the Summer Festival. *** The life and music of Richard Wagner (1813–1883) cast a colossal shadow over the realm of nineteenth-century art. "For better or worse" is a phrase often encountered during an examination of Wagner's influence on the musical, artistic, and cultural terrain that formed in the wake of the dramatic shifts brought on by the German composer, as his writings and operas––many of them highly polemic––have garnered both a beloved following and controversial legacy. While his legacy may be complex, Wagner's musico-dramatic genius has had an undeniable effect on the course of music history, and both his music and ideas continue to be cultivated and discussed.
When considering Wagner's musical output, it is most likely his operas to which one's mind wanders, as Wagner's position in music history is usually constructed as that of the most important composer of German opera during the nineteenth century. Wagner's monumental operas still allure and intoxicate audiences today, and any major opera house would be remiss if Wagner was absent from their season. When Wagner is concerned, the operas of Tannhäuser, Tristan und Isolde, Der Ring des Nibelungen, and Parsifal come to mind, operas that were intended to revolutionize music and the theater. Works such as the Ring––a mythic tetralogy of epic proportions consisting of nearly sixteen hours of music––have come to epitomize the Wagnerian idiom, not small, intimate pieces intended to be kept from the public. However, the Siegfried Idyll is a piece of instrumental music that Wagner himself hoped would grace only the ears of his family and closest friends. Thus, the Idyll offers a glimpse into Wagner's private life, telling a story centered around his children, financial struggles, and above all, romantic relationships. With similarities to the star-crossed lovers in Tristan und Isolde, the relationship of Wagner and his second wife Cosima (daughter of composer and piano virtuoso Franz Liszt) began as an arduous and scandalous affair. During the dawn of their relationship, Wagner was still married to his first wife Minna, though the couple had been separated––both emotionally and geographically––for several years, and Cosima was married to the famous conductor Hans von Bülow, an ardent champion of Wagner's music and the man tasked with conducting the premieres of both Tristan und Isolde and Die Meistersinger in 1865 and 1868, respectively. Von Bülow was acutely aware of the antics of Wagner and Cosima but, despite public embarrassment, remained a faithful member of the Wagnerian cause during these years. Due to Wagner's friendship and collaboration with both Liszt (who conducted the premiere of Wagner's Lohengrin in 1850) and von Bülow, Wagner had been acquainted with Cosima for several years, and the two exhibited signs of mutual admiration before the start of their not-so-secret love in 1864.
And Wagner's relationship with Cosima was never destined to be shrouded in secrecy, nor did it even have the chance. Wagner was always in the public eye; to his adversaries, the musical megalomaniac's operas were a direct reflection of the man himself––tediously pompous and ridiculously overblown. It should come as no surprise, then, that Wagner and Cosima's three children bear the names of the heroes and heroines of the operas he was composing or preparing at the time of their births. Isolde was born in 1865, Eva (named after the lead female character in Die Meistersinger) was born in 1867, and Wagner's only son was born in 1869. Named Siegfried in honor of the hero of the Ring saga, the youngest Wagner's birth inspired the maestro to compose the piece that would come to be known as the Siegfried Idyll. While traveling in 1866, Wagner and Cosima found a home in Tribschen, a district of Lucerne, Switzerland. Situated on the edge of Lake Lucerne, the villa was an idyllic retreat for the temperamental composer who spent many years as a political exile, often on the run from creditors, too. The serenity of this new residence––paired with the constant company of his muse Cosima––fueled Wagner's creativity, ending a compositional drought that had plagued the composer for several years. (The excessive financial support from the young King Ludwig II of Bavaria surely helped, too.) The Tribschen home was not only a pastoral retreat for Wagner, but it served as a hub for many nineteenth-century artists and intellectuals that were central to the Wagnerian enterprise, including such figures as King Ludwig II, Hans Richter (one of Wagner's protégés and the conductor of the first Ring cycle), Franz Liszt, and a young professor of philology by the name of Friedrich Nietzsche. The Wagner family, including two daughters Cosima previously had with von Bülow, finally felt at home. Tribschen was also the birthplace of the Siegfried Idyll, though this was not the original name of the piece. Celebrating the birth of their son Siegfried, Wagner composed this piece for small orchestra as a gift to Cosima for her birthday in 1870. Based on themes he jotted down several years earlier––reportedly inspired by an early rendezvous with Cosima––the work was an intimate gift. Cosima famously documented the first performance of the piece. Her diary entry on Sunday, December 25 reads: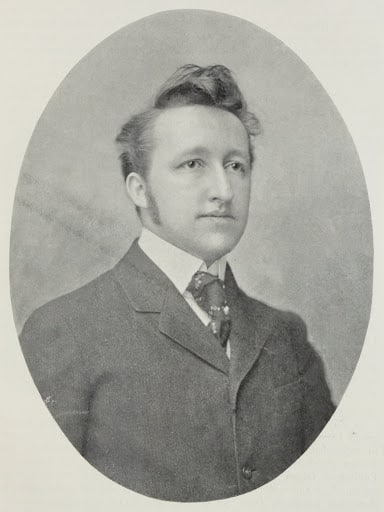 "When I woke up I heard a sound, it grew even louder, I could no longer imagine myself in a dream, music was sounding, and what music! After it had died away, R. came in to me with the five children and put into my hands the score of his 'Symphonic Birthday Greeting.' I was in tears, but so, too, was the whole household; R. had set up his orchestra on the stairs and thus consecrated our Tribschen forever! The Tribschen Idyll––thus the work is called."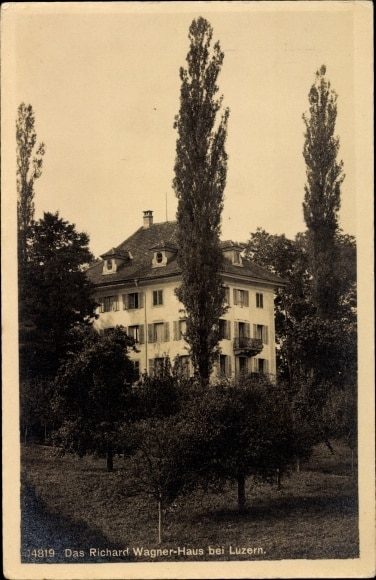 Wagner had secretly organized and rehearsed the small ensemble for this staircase premiere, and the composition was a deep expression of his love for Cosima. Music from the Tribschen Idyll finds its way into Act III of Siegfried, the third installment of the Ring cycle. Much of the material from the Idyll is found in the passionate final duet between Siegfried and Brünnhilde, symbolically linking Wagner's love for Cosima with that of the amorous heroes of the Ring. The intimacy surrounding the Idyll was cherished by the newlyweds––the piece represented somewhat of a musical secret within the family, a secret that was to be spoiled when the Wagners were plagued with financial troubles (a situation they were all too familiar with). Upon completion of the Bayreuth Festpielhaus, a summer theater in Bavaria designed for the sole purpose of performing Wagner's works, Wagner found himself faced with considerable debt accumulated in the wake of the inaugural festival of 1876. In an act of financial desperation, Wagner was forced to sell the Tribschen Idyll to Schott, a German music publisher. In his biography of the composer, Derek Watson writes that for Wagner, "parting with it was like selling his closest, most confidential secrets to a greedy world." Upon publication, the piece was branded the Siegfried Idyll, and has become one of the only instrumental works by Wagner that is regularly programmed. In contrast to the gargantuan stage spectacles that epitomize the Wagnerian style, the Idyll––a celebration of the birth of a son and a gift to a wife––was never intended to reach the ears of the public. First heard within the walls of that quaint Swiss home, the Idyll traveled a journey from the private to public sphere, and the story of its transformation offers audiences a brief glimpse into the home life of one of music's most outspoken figures. – Chet Stussy PhD Student, Musicology, UC Santa Barbara
---