Igor Stravinsky's exciting 
Firebird Suite 
(1919) ends the Academy Chamber Orchestra's Welcome Concert with Larry Rachleff at the Granada Theatre this Sunday, July 11 at 2 pm. Get your tickets now for this concert, which also features Katy Abbott's
Punch
and Wolfgang Mozart's Symphony 39.
BUY TICKETS
This guest post/program note comes courtesy of the Music Academy's partnership with the UC Santa Barbara Department of Music, a key part of 
Project Resonance
, a unique program combining writing training with public engagement. Through this initiative, both Academy fellows and young scholars from UCSB are given the opportunity to work on program notes and other written materials for the Summer Festival. ***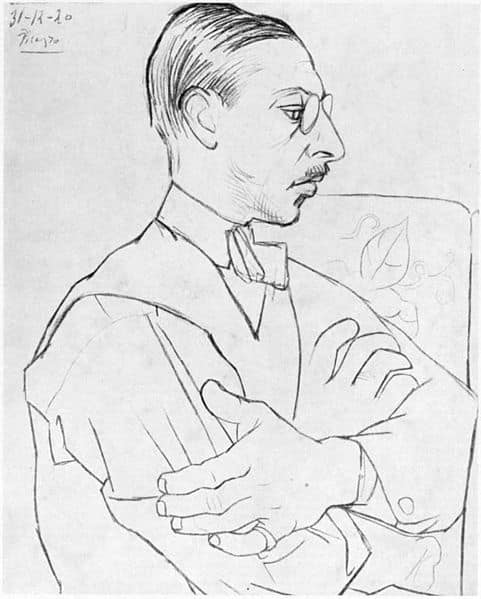 When we think of a particular piece of music, especially one as famous and oft performed as Igor Stravinsky's (1882-1971) The Firebird (1910), what is it that we consider the work to be? Is it the melodies that make it up? Is it a certain version or performance of the work that we remember? Is it something specific that "speaks" to us about that music? The Firebird is one of those works that we hear everywhere. It's entrenched in popular culture, and echoes of its characteristic sounds and harmonies appear in both concert works and movie scores today. What is perhaps most perplexing about The Firebird's popularity, however, is that it experienced a reception very much apart from Stravinsky's own career throughout the twentieth century. That is to say, while Stravinsky's style evolved and he courted controversy with works like The Rite of Spring, The Firebird remained a vestige of pre-war high-romantic decadence, delighting audiences with its tunes and harmonies while including just enough modernist spice to please the more academic critics of the day. The Firebird originated as a score for a ballet, one conceived of by Serge Diaghilev for his Ballets Russes. Having brought the Russian balletic tradition to Paris through this troupe, Diaghilev wished to produce a ballet that would offer an assortment of Russian folktales and characters tied together in a single narrative. This included stories about the titular Firebird (Жар-птица [Zhar-ptitsa] in Russian), as well as the hero Prince Ivan Tsarevich and the villain Katscheï the Deathless. Stravinsky was not Diaghilev's first or even second choice to score the work; at twenty-eight years old the composer showed promise but was unknown and untested. The ballet was a resounding success in Paris, and it is safe to say that it launched Stravinsky's musical career. As was tradition for successful ballets, Stravinsky excerpted several parts of the score into a suite in 1910. He would later excerpt more suites from the work in 1919 – the version heard on tonight's program – and again in 1945 for smaller orchestras.
Most audiences in the twentieth century, especially in America, would likely have heard this work for the first time in its 1919 suite version. In this form, The Firebird embarked a sort of world-tour. It became a constant refrain that when Stravinsky visited a city for the first time, The Firebird would have made its way there first. But those familiar with Stravinsky's oeuvre will know that most of his later compositions sound quite different from The Firebird. As a result, unless Stravinsky himself was conducting a concert, one would generally not find The Firebird and other Stravinsky works on the same program. It thus also became a constant that audience's expectations for his music were subverted when they would hear new works by the composer. The Firebird was plagued by issues surrounding its copyright and whether Stravinsky would receive royalties for performances of the work. In the chaos following the First World War and the October Revolution in Russia (1917), there was confusion as to who could print and perform Stravinsky's works that had initially been published in the now-extinct Russian Empire. Part of Stravinsky's rationale for arranging the 1919 suite was to reassert his rights over the work, though a dispute between the new publisher and the old led to a significant loss—Stravinsky retained no rights to the work, and was embroiled . While orchestras would often pay him to use his work out of respect, many felt they had no legal obligation to do so, and suing infringers often seemed not worth the hassle. For example, Stravinsky sued Warner Bros. over the 1934 film The Firebird, a murder mystery in which a recording of the work is a key element, and which the studio had not asked permission to use. The court ruled in favor of Stravinsky, though only awarded him one frank in damages, as the film was a critical and commercial flop and the only "damage" done to Stravinsky was the proximity of one of his melodies to a Viennese Aria in the film. When Stravinsky emigrated to the United States (he became a US citizen in 1945), he once again arranged a new suite from The Firebird for publication. Despite this new suite, he found himself less financially well-off than he had hoped. The United States would neither begin to normalize relations with the Soviet Union, nor sign the Berne convention (an agreement which governs international copyright law) until after Stravinsky's death. This gave the (mistaken) impression to many that Stravinsky's earlier works, especially The Firebird, were fair game for performing without worrying about copyright issues. It was not the 1945 suite, but the 1919 suite, rife with minor errors in its initial publication, that continued to be the most performed version of the work. In addition, the publisher of the new version, Leeds, went on to authorize the publication—without Stravinsky's blessing—of a foxtrot ("Summer Moon," 1947) based on a melody from The Firebird. Stravinsky sued the publisher but lost in court. Despite all this, it is difficult to pin down Stravinsky's exact feelings on this matter. On the one hand, he was clearly embittered regarding The Firebird's legal issues—in his personal correspondence, he would often denigrate the publishers who caused him so much trouble regarding the 1919 suite. On the other, he seems to have appreciated that because of this issue, his early music had disseminated in such a way that he became one of the most widely performed and well-respected composers of his own lifetime, often remarking in his correspondence about how often it was being performed. Indeed, had smaller, more local orchestras been concerned with whether they could afford the fees to perform Stravinsky's music, The Firebird may never have reached the vast global audience that it did. This is not a call for orchestras to ignore copyright and issues of performance rights to grant exposure to newer composers, but rather an acknowledgment that concert culture in the twentieth often flourished in part because the application of copyright law was for a time much more relaxed in America than it is today. Today, in whatever version of it is played, The Firebird continues to entertain audiences, and has come to represent a certain triumph of the soul. Its quick explosion across the globe, in performances both authorized and unauthorized, guaranteed that this ambitious work of a then-fledgling composer would continue to convey the spirit of the young Stravinsky to this day. – Marc Lombardino PhD Candidate, Musicology, UC Santa Barbara
---
About the Annotator Marc Lombardino is a PhD candidate in Musicology at UC Santa Barbara, whose research focuses on the relationship between music, dancing, and etiquette in France in the late seventeenth century. He is also a collaborative pianist and piano teacher working in the Los Angeles and Orange County areas. As a pianist, he accompanies ballet classes at Lauridsen Ballet Centre in Torrance, California State University Long Beach, and the Orange County School of the Arts among other locations.