For the past 75 years, the Music Academy of the West has had a powerful influence on the lives of the young musicians it serves—educating them, inspiring them, and preparing them for brilliant musical careers. In honor of the 75th Anniversary this year, we'll be collecting and sharing stories from alums of all generations, celebrating their accomplishments and the role that the Academy played in their personal and professional lives. *** Sandy Seymour's ('58, '60) first experience with the Music Academy was something of a surprise. It was at the Coleman Chamber Music Competition in 1958 and Sandy's string quartet had just finished performing, when she was approached on stage by two people: Ruth Cowan, president of the Music Academy at that time, and Sascha Jacobson, who taught violin at the Academy. They were there to offer her a scholarship. The recent high school graduate—a pianist since the age of 4 and a violinist since 6—was only too happy to accept.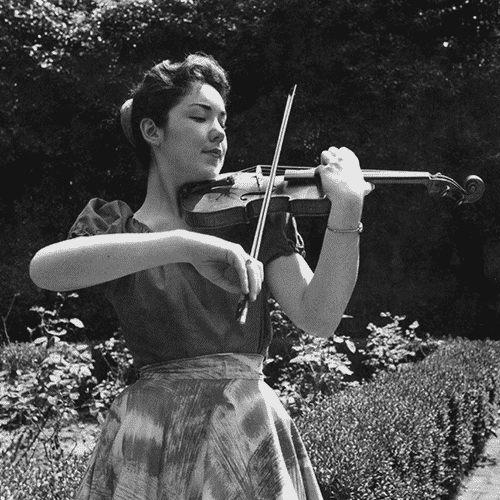 "My first summer at the Academy was a wakeup call for me," Sandy recalled to me in a recent Zoom call from her home in Encino. "It was like the inspiration that really just set things going." Sandy had always been one to practice regularly, but it wasn't until that summer of 1958 that she became a total devotee, sometimes practicing as many as 8 hours per day! The hard work clearly paid off. After receiving letters of recommendation from Academy faculty, she was one of only 12 young musicians invited to audition for the chance to join world-renowned violinist Jascha Heifetz's first masterclass at UCLA. She was invited to participate. "It was an experience I will never forget, and the Music Academy helped me get there." It wasn't all hard work, though. There were friendships, trips to the local ice cream shop, and one memorable experience of playing in the orchestra for Richard Strauss's opera Der Rosenkavalier while sporting a wicked sunburn. (The admittedly "fair-complected" Sandy recalls asking herself at the time, "What does Sandy do for fun? She finally stops practicing long enough to go to the beach and gets sunburned!") Above all, there was for Sandy a powerful feeling of belonging while at the Music Academy: "It was wonderful being amongst people who were so enthusiastic and so outgoing. It felt like at the Academy I had a wonderful, warm family. Outside of the music, even, there was a warmth and an environment and a love that to me was very inspirational."
During her second summer at the Academy in 1960, Sandy was approached by the Maurice Abravanel with an offer of employment. Abravanel, who was music director at both the Academy and the Utah Symphony, wanted her to join his orchestra in Salt Lake City. Sandy was stunned, having just been offered her first full-time job at the age of 19! After playing for one season, Abravanel offered her a five-year contract. She declined his offer, however, so that she could finish her undergraduate studies, during which time she toured on several occasions with the Temianka Chamber Orchestra, the Clebanoff Strings, the San Francisco Ballet, and the Roger Wagner Chorale.
After college, Sandy's professional musical career took her lots of places. She participated in concert tours throughout North America, performed at Carnegie Hall twice, and as a studio musician she played for movies, TV shows, and recorded with, among others, the likes of Frank Sinatra, Neil Diamond, and Earth, Wind & Fire. In 1967, she met her husband, Phil, himself a musician who once performed at the White House with Sammy Davis Jr. They were married in 1968 and are celebrating their 54
th
Anniversary
this month!
Sandy and Phil tired of the touring musician life in 1977. They took what Sandy describes as a "left-turn," becoming real estate agents who for many years specialized in court-ordered fiduciary sales. They are fortunate to have had great success in their careers, and, as such, they want to give back. "Our mutual love of music has always been our bond and has been a transformative influence in both our lives," Sandy says. "In recognition of the priceless education the Academy gave me, that propelled me into a long and rewarding career, we are pleased to become members of the
Encore Society
." The more things change, the more they stay the same. 63 years have passed since Sandy first set foot on the Academy's grounds and much is different. Those who studied at the Academy then were still called "students," and the gift that enabled our full fellowship program was still some 30 years in the future. The Academy only had one performance hall, Lehmann Hall in the Main House, and many programs and initiatives that are today synonymous with the Music Academy had not yet been conceived. But the overall experience? The friendships, the feeling of family, the transformative education? None of that has changed. More important than any one person, program, or concert, these ideals have been a constant with the Academy for the last 75 years and will remain so far into the future. And sure, the popular ice cream shops may have different names, but a warm summer afternoon will still find Academy fellows trekking to get a couple of scoops, and if you spend enough time around here you're bound to see at least one person performing through the discomfort of a wicked beach day sunburn.
– Henry Michaels Project Resonance Blog editor, Director of Audience Experience & Engagement, Music Academy of the West
---