Cutting-edge premieres by today's most-celebrated composers 
Champion young talented artists as they unleash their virtuosity onstage 
---
Young artists launching careers need the opportunity to showcase their own progams and to communicate with audiences in performance to hone their craft. The Music Academy has aligned Summer Festival competition winners in collaboration with notable composers to present their world premiere commissions for audiences in Hahn Hall. In addition to the recitals, each winner received a $5,000 cash prize. The 2021 competition winners will be presented in sequence for the first time in the 
Competition Winners Recital Series
 April 5-7.
---
WORLD PREMIERES
These stand-out alumni and winners of the Duo Competition: violist 
Keoni Bolding
 and pianist 
Melivia Raharjo,
 Solo Piano Competition: 
Hsin-Hao Yang,
 and Marilyn Horne Song Competition: tenor 
Shawn Roth
 and pianist 
Alexander Soloway
 will perform world premiere works that have been commissioned by the Music Academy and written just for them by celebrated composers of our time: 
Conrad Tao,
Tyshawn Sorey,
 and 
Carlos Simon,
 respectively. These three composers represent expansion of the classical genre and welcome experimentation and improvisation.
---
CREATIVE APPROACHES
As part of their winning packages, the artists were offered the option to present their recitals in creative, new ways. Each recital will include an 
Innovation Element
 in their performances. These encompass lighting and projections, 3D renderings that interact with the music, and a keepsake for audiences to bring home.
---
NEW! SUBSCRIPTION SAVINGS
Recital tickets are available by subscription now – normally priced at $55 per recital, a series subscription for all three performances is $105 for a substantial savings. Individual tickets will be available for purchase starting March 11. For tickets, please visit 
musicacademy.org/recital-series
---
RECITAL PROGRAMS
Keoni Bolding viola ('20, '21) / Melivia Raharjo piano ('20, '21)
Innovation Element
illuminations on a dusk to dawn recital theme
RECITAL PROGRAM
CLAUDE DEBUSSY  Prelude to Afternoon of a Faun CONRAD TAO  Churn WORLD PREMIERE, MUSIC ACADEMY COMMISSION ENNIO MORRICONE  Il Tramonto FLORENCE PRICE  Night REBECCA CLARKE  A dream ANTONÍN DVOŘÁK  "Song to the Moon" from Rusalka ARNOLD SCHOENBERG  "Her Dark Gaze Drowns in Moonlight" from Transfigured Night REBECCA CLARK  Viola Sonata RICHARD STRAUSS  Morgen
---
Hsin-Hao (Vincent) Yang piano ('20, '21)
Innovation Element
3D renderings that interact with the music
RECITAL PROGRAM
FERRUCCIO BUSONI Toccata JOSEPH HAYDN Keyboard Sonata in B Minor NIKOLAI KAPUSTIN Selections from Preludes Op. 28 TYSHAWN SOREY WORLD PREMIERE, MUSIC ACADEMY COMMISSION FRANZ LISZT Après une lecture du Dante (fantasia quasi sonata)
---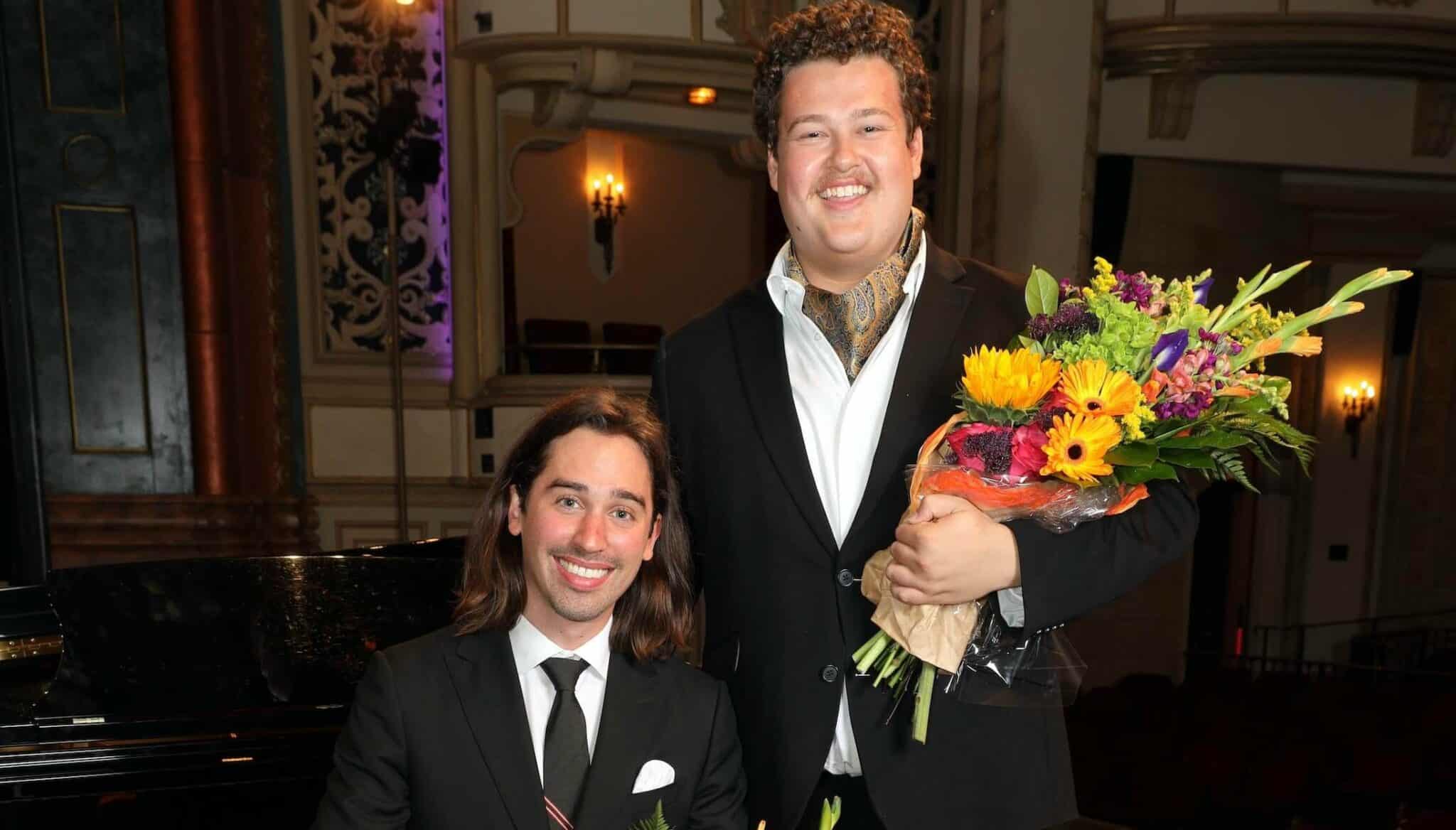 Shawn Roth tenor ('19, '20, '21) / Alexander Soloway piano ('20, '21)
Innovation Element
audience keepsake connected with the theme of spring, love, and anticipation
RECITAL PROGRAM
CARLOS SIMON  Vocalise WORLD PREMIERE, MUSIC ACADEMY COMMISSION BENJAMIN BRITTEN  "O might those Sighs and Teares" from The Holy Sonnets of John Donne , The Last Rose of Summer FRANZ LISZT  "Pace non Trovo" from 3 Sonetti del Petrarca ROBERT SCHUMANN  Liederkreis Op. 39 PAOLO TOSTI  L'alba separa dalla luce l'ombra
Described as "mesmerizing" by 
The Burlington Hawkeye Times,
 violist 
Keoni Bolding ('20, '21)
 has established a multi-faceted career, appearing as a soloist in Carnegie's Weill Hall, a chamber musician with the Rome Chamber Music Festival, and an orchestral player with the New York Philharmonic. He captured the Transcription Prize at the 2021 Primrose International Viola Competition. Keoni has been featured on the Emmy-nominated show
 Songcraft Presents
 and performed with the Count Basie Orchestra. As a Music Academy 
Keston MAX Fellow
, he will perform with the London Symphony Orchestra this March.
---
Born in Indonesia, pianist 
Melivia Raharjo 
('20, '21)
 is currently a staff pianist at the Cleveland Institute of Music, where she previously studied with Anita Pontremoli for her master's degree and Artist Diploma. She has performed in chamber performances with renowned artists, such as Takács Quartet, Roger Vignoles, Jaime Laredo, and Olga Dubossarskaya Kaler. Performing with other musicians who are passionate about music always brings so much joy to her life. She hopes that these performances can inspire others to play more chamber music in the future.
---
Pianist 
Hsin-Hao (Vincent) Yang 
('20, '21)
 was born in Changhua, Taiwan, and is earning his master's degree at the New England Conservatory of Music, studying with Wha-Kyung Byun. Hsin-Hao won the Dallas International Piano Competition, performing Liszt's Piano Concerto No. 1 with the Dallas Chamber Symphony Orchestra, and has won the National Music Competition in Taiwan three times. 
---
Shawn Roth 
('19, '20, '21)
 ) is an emerging tenor in opera. In 2019, he was named a winner in the Michigan District of the Metropolitan Opera National Council Auditions, and went on to receive the Encouragement Award at the MONCA Great Lakes Region Finals in 2020. That same year, Shawn joined the roster of resident artists at Academy of Vocal Arts in Philadelphia, where he studies with Bill Schuman. There, he has prepared a variety of roles as well as performed in recitals featuring French, Russian, and liturgical music. He maintains a private voice studio in his hometown of Johnstown, Pennsylvania. 
---
Alexander Soloway 
('20, '21)
 is a pianist and vocal coach in his first year of the Lindemann Young Artist Development Program. Originally from Ottawa, Canada, he was previously a member of the Ensemble Studio at the Canadian Opera Company (2019-2021). In 2021, he appeared on CBC music's list of 30 exceptional Canadian classical talents under 30. He has performed extensively across North America and Europe, including in venues such as the Richard Bradshaw Amphitheatre in Toronto, the Mozarteum University in Salzburg, and at Carnegie's Weill Recital Hall in New York. 
---
ABOUT MUSIC ACADEMY OF THE WEST
Music Academy of the West is a performance-based training center and incubator that empowers musicians to positively impact society. The Academy welcomes everyone from across all generations, cultures, and backgrounds to experience the transformative power of music. Based in Santa Barbara, California, the Academy presents the preeminent full-scholarship Summer School and Festival for classically trained fellows ages 18 to 34. They study and perform with more than 50 exceptional faculty and teaching artists, while forging close connections with the community. The Academy's commitment to long-term collaborations and exchanges with leading orchestras and opera companies results in unparalleled mentorship and career-advancing prospects. The Innovation Institute spearheads entrepreneurial training and ventures through seminars, residencies, and the Alumni Enterprise Awards, substantial grants given annually for a wide range of creative projects. Launched in 2018, Sing!, a free, after-school choral program for local elementary students inspires personal growth and expression. For more information, please visit musicacademy.org. Kate Oberjat (she/her/hers) Director of Marketing & Communications Music Academy of the West 805‐695-7908 / koberjat@musicacademy.org