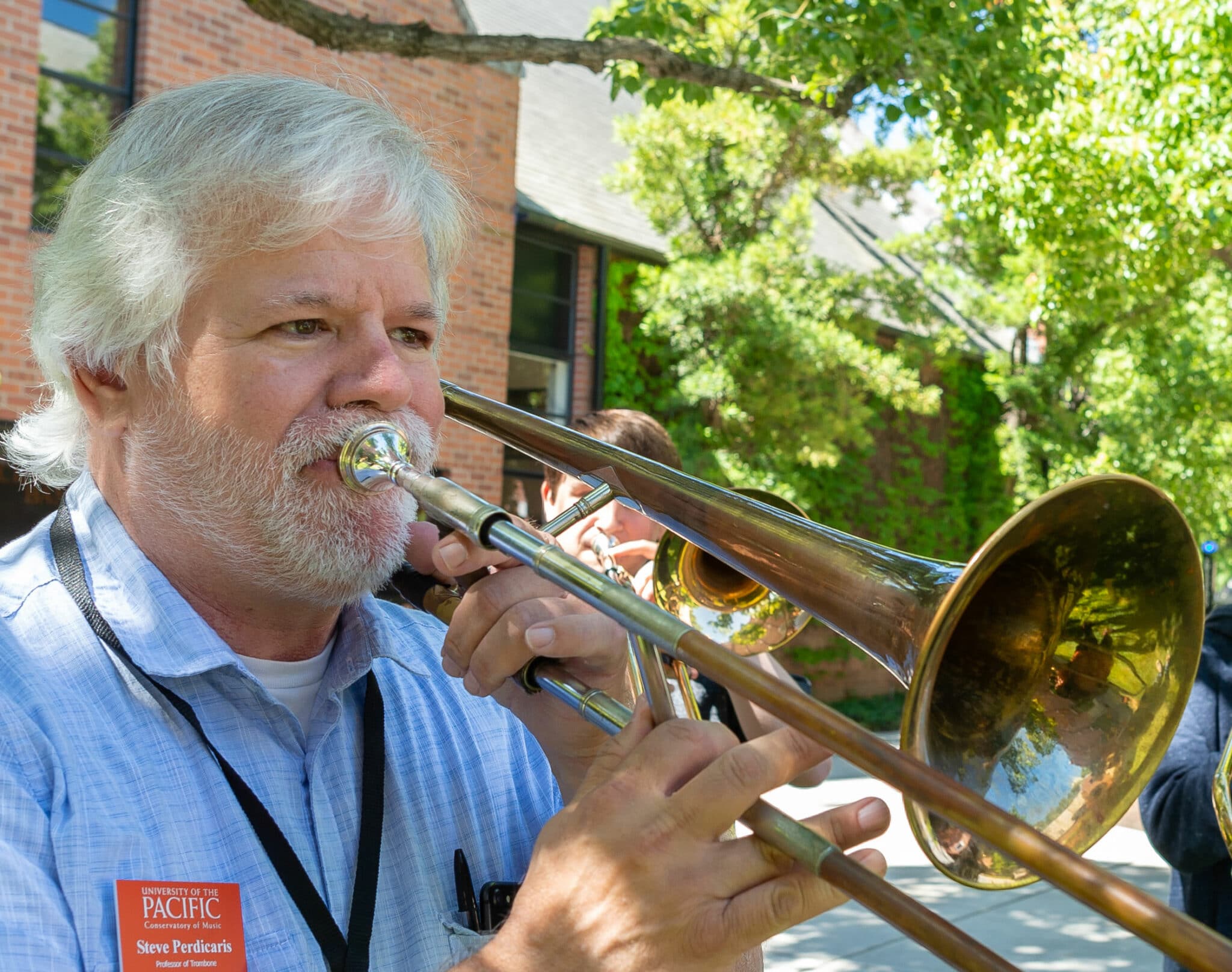 Steve Perdicaris
2019 Alumni Enterprise Award Winner
trombone ('86)
Project: Crescendo 2020
Mr. Perdicaris co-founded Music Mission San Francisco (MMSF) in 2015, with the goal to inspire children and create positive social change throughout their lives. MMSF uses a philosophy based on Venezuela's EI Sistema, a visionary global movement that transforms the lives of children through music. MMSF provides free after-school music instruction that culminates in public performances at the Mission Cultural Center for Latino Arts and the San Francisco Conservatory of Music. In just 3 1/2 years, the program has grown to include approximately 40 children receiving instruction on violin, cello and voice. His long-term goal is to create a full orchestra including winds, brass and percussion. With the support of the Music Academy of the West, MMSF will add viola and woodwind teaching artists expanding the instrumentation of the program's current offerings as it aims to launch a chamber orchestra program by 2020. The Crescendo 2020 project will help strengthen the ability of MMSF to meet the needs of San Francisco's underserved children.
Learn more about Music Mission San Francisco.
Steve Perdicaris currently serves as Associate Professor of Practice, Director of Operations and Pacific Music Camps at the University of the Pacific in Stockton, CA. He received his bachelor's degree from the University of North Texas, his master's degree from the University of San Francisco, and was awarded an Associate Certificate with Honors in trombone performance from the Royal College of Music in London.
Mr. Perdicaris has been a member of the Sacramento Philharmonic for 22 years and has performed with the City of Birmingham Symphony Orchestra (CBSO), Houston Symphony, and many other northern California orchestras. In addition, he can be heard on numerous recordings with Sir Simon Rattle and the CBSO. Throughout his career, Mr. Perdicaris has performed under many notable conductors such as Andre Previn and Robert Shaw.