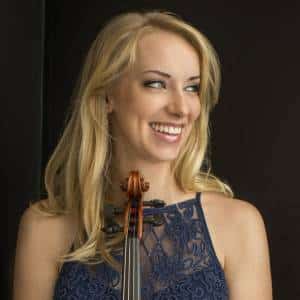 Molly Carr
Violist MOLLY CARR enjoys a diverse musical career as recitalist, chamber musician, educator, and artistic director. Hailed as "one of the most interesting interpreters of the viola today" (Codalario Spain) and praised for her "intoxicating" (New York Times) and "ravishing" (STRAD) performances, she has been the recipient of numerous international prizes and awards from the Primrose International Viola Competition, Chamber Music America, ProMusicis Foundation, Davidson Institute, Virtu Foundation, MAW Alumni Enterprise Awards, ASTA, and ARTS among many others.
Her performances have taken her across North America, Europe, the Middle East, and Asia and been broadcast on BBC World News, CNN, Forbes, PBS's Live from Lincoln Center, Good Morning America, and National Public Radio in the US, as well as on Canadian, Bulgarian, Israeli, Argentinian and Hungarian National Television and Radio. In 2018 she was named by the Sandi Klein Show as one of America's leading "Creative Women," honored at the United Nations and awarded the International Father Eugène Merlet Award for Community Service for her work in prisons and with refugees around the globe as the Founding Director for the nonprofit Project: Music Heals Us.
Ms. Carr is the violist of the Juilliard String Quartet and the Carr-Petrova Duo and is the former violist of the Iris Trio and the Solera Quartet – the first and only American chamber ensemble chosen for the ProMusicis International Award, and the recipient of Chamber Music America's 2018 Guarneri Quartet Residency Award. She has appeared as both performer and guest faculty in festivals around the world, including the Marlboro Music Festival, Ravinia Festival, Mozartfest, Huberman Course, Hyderabad SOTA Music Festival, Yellow Barn Music Festival, Music@Menlo, the International Musicians Seminar and Open Chamber Music at Prussia Cove, and the Perlman Music Program. Ms. Carr has collaborated with such renowned artists as Itzhak Perlman, Pinchas Zukerman, Carter Brey, Peter Wiley, Ida Kavafian, Donald and Alisa Weilerstein, Pamela Frank, and the Miro, Orion and American Quartets, performing in such premier venues as Carnegie Hall, Lincoln Center, New York's Metropolitan Museum of Art, Princeton's McCarter Theatre, Chicago's Symphony Center, and the Jerusalem Music Center.
Highlights of recent seasons included the Carr-Petrova Duo's sold-out debut in Carnegie's Weill Recital Hall, praised by the Classical Post as "deeply moving […] categorically astonishing in its beauty, ensemble, artistry, quality of sound, and almost uncanny ability to draw into the music." Other appearances included recitals in the Smithsonian Museum, Jerusalem Music Center, Malaga's Sociedad Filarmonica Chamber Music Series, Clarke Arts Center at the Perlman Music Program, and Sala Clemente in Valencia. Future engagements include a tour of China, performances and masterclasses in Germany, Spain, Israel, and the US.
Both the Carr-Petrova Duo and Iris Trio recently released debut albums to international critical acclaim. The Duo's Novel Voices, released on the Melos label, was immediately chosen by Spain's Classical Music Magazine Ritmo as one of its "Top 10 CDs of the Month," praising the Duo's performance of the Rebecca Clarke Sonata as "the best interpretation of this sonata to date." Codalario Magazine also gave the album its "Superior Quality" award, named it as their "Top Album of 2020," and stated, "It would be hard to debut better than this." Fanfare Magazine listed the album as a "recording to have and hold dear, […] one of the most compelling and successful viola and piano recitals – technically perfect and musically involving." The Iris Trio's release of Hommage and Inspiration on the Coviello Classics label was chosen by CBC as one of its "Top 10 Classical Albums to Get Excited About," and reviewed by Fanfare as "superb […] a five-star stand-out release, writ large with the spirit of chamber music." Other discography includes the Solera Quartet's debut studio album Every Moment Present on Contact Point Records, as well as an album of the Viola Sonata and early chamber works of Jennifer Higdon on the NAXOS label in 2012.
Ms. Carr serves on the Viola Faculties of The Juilliard School and the Manhattan School of Music. She is also the Founder and Artistic Director of the award-winning non-profit Project: Music Heals Us (PMHU) – an organization which brings free chamber music performances and interactive programming to marginalized populations with limited ability to access the Arts themselves.
While Ms. Carr has had the great honor of performing around the globe in such revered venues as Carnegie Hall, Lincoln Center, The Kennedy Center, etc., through her work with Project: Music Heals Us she has had the even greater honor and privilege of stepping behind prison walls to witness "hardened criminals" soften and weep at the sound of Beethoven's string quartets; of standing at the bedside of hospital ICU patients to hold their hands and offer her best in their final minutes of life; of seeing opposing gang members in a federal correctional institution miraculously becoming musical bandmates through composers workshops; and of visiting refugee camps to offer the creative space for traumatized children to dance, sing, smile and freely express themselves for the first time in years.
Ms. Carr resides with her husband Oded Hadar in Harlem, where she is mother to six plants and a crazy oversized pooch named Moochie. She is honored to be the recipient of an instrument loan from an anonymous donor through the Tarisio Trust, performing on the late Michael Tree's viola, a Domenico Busan dated c. 1750.