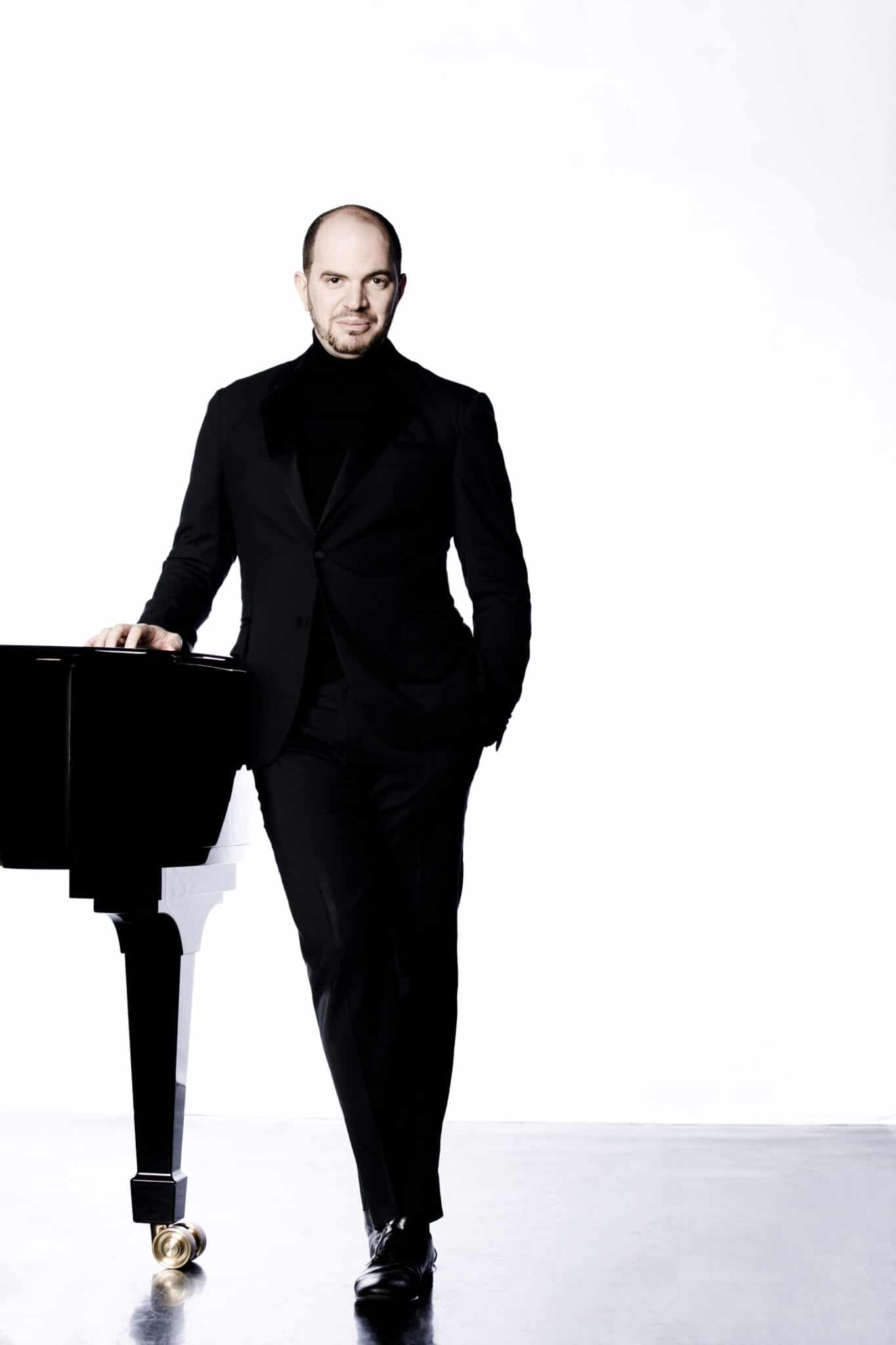 Kirill Gerstein
Pianist Kirill Gerstein's curiosity and versatility has led to a powerful engagement with a wide range of repertoire and styles. From Bach to Adès, his playing is distinguished by its clarity of expression, discerning intelligence and virtuosity. Mr. Gerstein's energetic and imaginative musical personality has rapidly taken him to the top of his profession.
Born in the former Soviet Union, Mr. Gerstein is an American citizen based in Berlin. His career is similarly international, with solo and concerto engagements taking him across Europe and the United States, to China and Australia. An important focus of last season was the world première of Thomas Adès's Concerto for Piano and Orchestra. Commissioned by the Boston Symphony Orchestra and composed especially for Mr. Gerstein, the concerto is the outcome of a long and productive relationship with both orchestra and composer. Following the world première in Boston and subsequent New York and European premières, during the 2019-20 season, Mr. Gerstein and Mr. Adès present the new piece in London, Helsinki, Munich, Amsterdam and Los Angeles. Mr. Gerstein will also play the concerto with the Danish National Symphony led by Nicholas Collon and the Cleveland Orchestra led by Alan Gilbert.
This season, Mr. Gerstein also returns to the Atlanta, Dallas, Houston, and San Diego Symphonies, and launches a two-year cycle of the complete Rachmaninoff works for piano and orchestra with the Minnesota Orchestra. To mark Beethoven's 250th anniversary, he opens the Chicago Symphony's Piano series surveying the complete piano sonatas, and performs all five Piano Concertos with the Grand Rapids and San Antonio symphonies. His recital program titled a "Journey through Europe" juxtaposes works by Adès, Bartók, and Kurtág with Haydn, Schubert, Brahms, and Liszt, in concerts at the Berliner Philharmonie, New York's Zankel Hall, and London's Wigmore Hall. In Paris and Hungary, he will be heard with the Hagen Quartet with whom he regularly collaborates.
Kirill Gerstein's recent North American engagements also include performances with the New York Philharmonic, and the Chicago, San Francisco, Pittsburgh, National, Vancouver and Houston symphonies, as well as recital appearances in New York, Chicago, Washington DC, Seattle, Miami, and at Princeton and Duke Universities. In Europe, he has played with such prominent orchestras as the Berlin and Vienna Philharmonics, Royal Concertgebouw Orchestra, Bavarian Radio Orchestra, the Munich, London and Oslo Philharmonics and the Finnish Radio Orchestra. He has performed recitals in Vienna, Paris, Prague, Hamburg, London's Wigmore Hall and Queen Elizabeth Hall, and at the Liszt Academy in Budapest. He has also appeared at the Salzburg Festival as well as at Verbier, the Lucerne and Edinburgh Festivals, the Proms in London, and the Jerusalem Chamber Music Festival.
Mr. Gerstein's recent recordings for myrios classics include a live recording Busoni's epic Piano Concerto with the Boston Symphony conducted by Sakari Oramo and The Gershwin Moment featuring live recordings of the composer's Piano Concerto in F and Rhapsody in Blue with the Saint Louis Symphony Orchestra conducted by David Robertson, selections from Earl Wild's Virtuoso Etudes after Gershwin, and collaborations with vibraphonist Gary Burton and vocalist Storm Large. Also on myrios are Liszt's Transcendental Études, chosen by The New Yorker as one of 2016's most notable recordings; Tchaikovsky's Piano Concerto No. 1 in the composer's own final version from 1879; Imaginary Pictures, which pairs Mussorgsky's Pictures at an Exhibition with Schumann's Carnaval; and a solo album of works by Schumann, Liszt and Oliver Knussen. Mr. Gerstein also recorded Scriabin's Piano Concerto Op. 20 and Prometheus: The Poem of Fire with the Oslo Philharmonic and Chief Conductor Vasily Petrenko, released on two recordings from LAWO classics. Mr. Gerstein's next recording release has him performing Tchaikovsky's Piano Concertos on Semyon Bychkov and the Czech Philharmonic's "The Tchaikovsky Project" box set for Decca.
As a child, Mr. Gerstein studied both classical and jazz piano. He moved to the U.S. where, at age 14, he was the youngest student to attend Boston's Berklee College of Music. Shifting his focus to the classical repertoire, he studied with Solomon Mikowsky in New York, Dmitri Bashkirov in Madrid and Ferenc Rados in Budapest. Gerstein has received a series of prestigious accolades, including First Prize at the 10th Arthur Rubinstein Competition in 2001 and a Gilmore Young Artist Award in 2002. In 2010 he was awarded both an Avery Fisher Career Grant and the Gilmore Artist Award, which provided the funds for him to commission new works from Timo Andres, Chick Corea, Alexander Goehr, Oliver Knussen, and Brad Mehldau.
Keenly aware of the importance of working with young musicians, Mr. Gerstein taught at the Stuttgart Hochschule Musik from 2007-2017 and, beginning in the fall of 2018, began teaching at the Kronberg Academy's newly announced Sir András Schiff Performance Program for Young Artists.