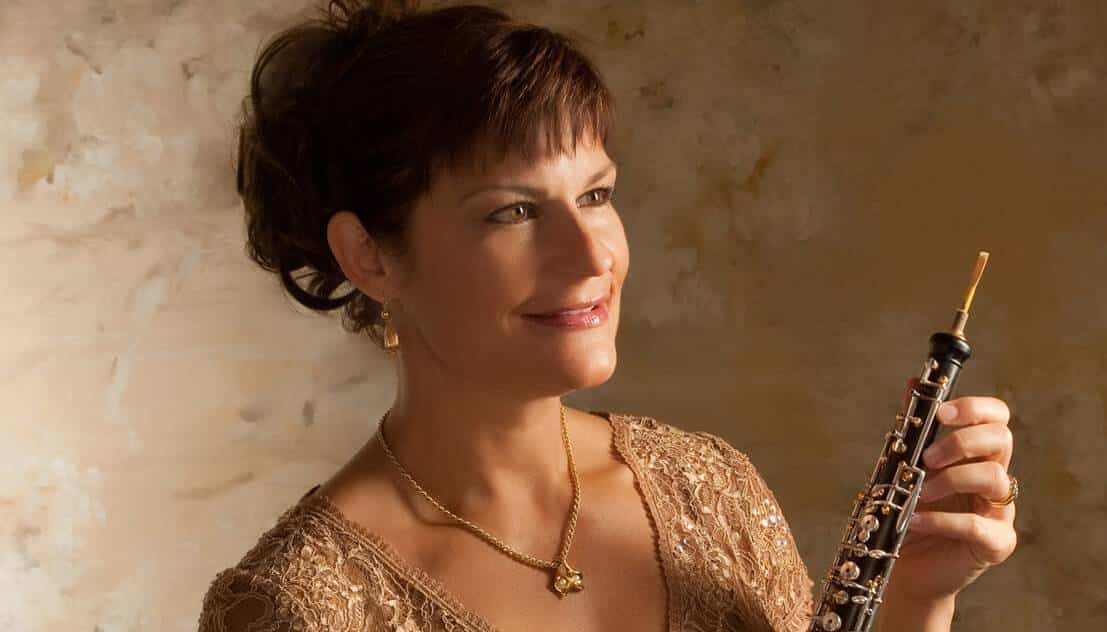 Cynthia Koledo DeAlmeida
Cynthia Koledo DeAlmeida was appointed by Lorin Maazel as principal oboe of the Pittsburgh Symphony Orchestra in 1991. For two years prior, she was associate principal oboe of the Philadelphia Orchestra under Riccardo Muti.
DeAlmeida received the Bachelor of Music degree from the University of Michigan, studying with Arno Mariotti, and the Master of Music degree from Temple University, as a student of Richard Woodhams. She is also grateful to her other teachers - Sarah Young, Robert Sorton, Elaine Douvas, John Mack, H. Robert Reynolds and Max Rudolf. Ms. DeAlmeida proudly plays on F. Loree oboes of Paris, France.
In November 2002, DeAlmeida's first solo CD was released on the Boston Records label. Classic Discoveries for Oboe was hailed by American Record Guide as "a masterly recording… Cynthia Koledo DeAlmeida is simply one of the finest exponents of the instrument anywhere." Her second solo CD, entitled Mist Over the Lake on the Crystal Record label, was released in 2006 to rave reviews: "Ms. DeAlmeida is hands down one of the best players in the world…" In 2015 her third CD Silver and Gold was released on the Crystal Records label. Gramophone magazine called her "a poetic artist" and Fanfare magazine wrote "she is a soloist of immense technique and considerable charm…"  DeAlmeida can also be heard on Crystal Records' recording of Sir Andre Previn's Sonata for Oboe, Bassoon, and Piano with Sir Andre Previn, as well as all the Pittsburgh Symphony recordings since 1991 under Lorin Maazel, Mariss Jansons, Marek Janowski and Manfred Honeck. In 2009, DeAlmeida travelled to Berlin to perform and record the German Requiem of Brahms with Marek Janowski and the Radio Orchestra of Berlin (RSB) on the Pentatone label.
DeAlmeida has been featured with the Pittsburgh Symphony Orchestra in concertos by J.S.Bach, Leonardo Balada, Alan Fletcher, Francaix, Haydn, Mozart, Lucas Richman, Richard Strauss, and Vaughan Williams. She performed these concertos with the PSO conducted by Andres Cardenes, Sir Andrew Davis, Gunther Herbig, Manfred Honeck, Lorin Maazel, Sir Andre Previn, Lucas Richman, Alessandro Siciliani, Leonard Slatkin, Jeanette Sorrell, Yoav Talmi, and Pinchas Zukerman. The concertos by Balada, Richman, and Fletcher were all commissioned for Ms. DeAlmeida by the PSO, in 1992, 2006, and 2015 respectively. The Balada was recorded for New World Records with the PSO, Lorin Maazel conducting. The Richman concerto was recorded for Albany Records with the PSO, Lucas Richman conducting. Four different times DeAlmeida has performed Bach's Concerto for Violin and Oboe with the PSO, partnering with violinists Vladimir Spivakov, Andres Cardenes, Pinchas Zukerman, and Noah Bendix-Balgley. DeAlmeida has also appeared as soloist with the Philadelphia Orchestra, the Haddonfield Symphony, the Cayuga Chamber Orchestra, the Concerto Soloists of Philadelphia, the Knoxville Symphony, the U.S. Army Orchestra,  and the Carnegie Mellon Philharmonic.
DeAlmeida is an avid chamber musician, having performed ten recitals at Carnegie Mellon University since 1993. For one of these recitals, she commissioned, published and recorded a piece for Oboe, Horn, Cello, and Piano by Michael Moricz, entitled "Three Consequences for Four Players". Each summer since 2002, she performs and teaches as a faculty member of the Music Academy of the West in Santa Barbara, California. Several of her performances there have been featured on NPR's "Performance Today." DeAlmeida has also performed at the Strings Festival in Steamboat Springs, Colorado; the La Jolla Festival in La Jolla, California; and the Marlboro Music Festival in Vermont as well as several 'Music from Marlboro' tours.
Teaching has always been a rewarding part of DeAlmeida's artistic life. She has held teaching positions at Temple University in Philadelphia and Trenton State College in New Jersey, and has taught at the National Orchestral Institute at the University of Maryland as well as the New World Symphony. She has given masterclasses at universities in the United States and abroad including the Manhattan School of Music, the University of Tennessee, Eastern Michigan University, the University of South Carolina, and the Seoul Conservatory.
In 2003, DeAlmeida was featured on national television on the CBS "Early Show" in a story relating to the oboe and its remarkable health benefits for asthma sufferers, which led to her work as an ambassador for the American Respiratory Alliance in Pittsburgh.
DeAlmeida volunteers at Pittsburgh's classical radio station WQED in their fundraising pledge drives. She participates in the Pittsburgh Symphony's Education and Community Engagement department playing and speaking to young people in various venues throughout the Pittsburgh area. Each summer Ms. DeAlmeida enjoys volunteering at the Woodlands Foundation's "Notes from the Heart" music camp in Wexford, PA.
She has been a member of the Music Academy faculty since 2002.