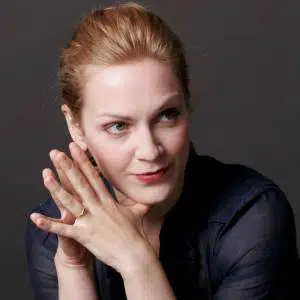 Brenda Patterson
2019 Alumni Enterprise Award Winner
mezzo-soprano ('00)
Project: Ready.Set / Armida
Ms. Patterson, the Director of Music of Victory Hall Opera [VHO] in Charlottesville, seeks to invent a modern, modular stage set that is affordable, transportable, and reconfigurable. With the Ready.Set Competition, VHO, opens up to designers and architects the challenge of creating a modular set design. The Finalists will be announced at the Tom Tom Summit & Festival in April 2019, and a Winner selected after a collaborative development process. The first use of this new modular set will be VHO's groundbreaking production of Haydn's Armida, a Virginia Premiere, in October 2019, featuring Music Academy alumnus Will Ferguson, Metropolitan Opera soprano Rachelle Durkin, and African-American tenor Victor Ryan Robertson. VHO will employ a "devised theater" rehearsal process, in which the performers collaboratively create the staging, as well as new material.
Learn more about the competition and production here.
Described as "a voice you want to hear and, even more, an artist you want to follow" (- New York Times), mezzo-soprano Brenda Patterson has been at the forefront of innovation in operatic and concert performance for 20 years, recognized as much for her artistic bravery as for the beauty and warmth of her voice.  A graduate of The Juilliard School (where she was awarded the Taranow Prize in Voice and was the Winner of the Alice Tully Vocal Arts Debut Recital Competition) and Barnard College, Brenda was at the Hamburg State Opera before continuing to La Scala in Milan and the Metropolitan Opera, where she was on the roster for seven seasons, and at Opera Colorado, Glimmerglass Opera, Lyric Opera of Kansas City, and Florida Grand Opera, among many others.  Brenda has performed most of the major lyric mezzo roles, such as Idamante, Octavian, Dorabella, Niklausse, Hänsel, Cherubino, and Rosina, and has premiered over 30 vocal works. She is currently the official vocal consultant to the Composers-in-Residence of Opera Philadelphia, and leads a performance class that she created, "Voice for the Stage", at the University of Virginia.  She is also a co-founder of the pioneering, ensemble-based Victory Hall Opera in Charlottesville, VA, now in its fourth Season, and is the only singer in America to hold the title of Director of Music of an opera company.