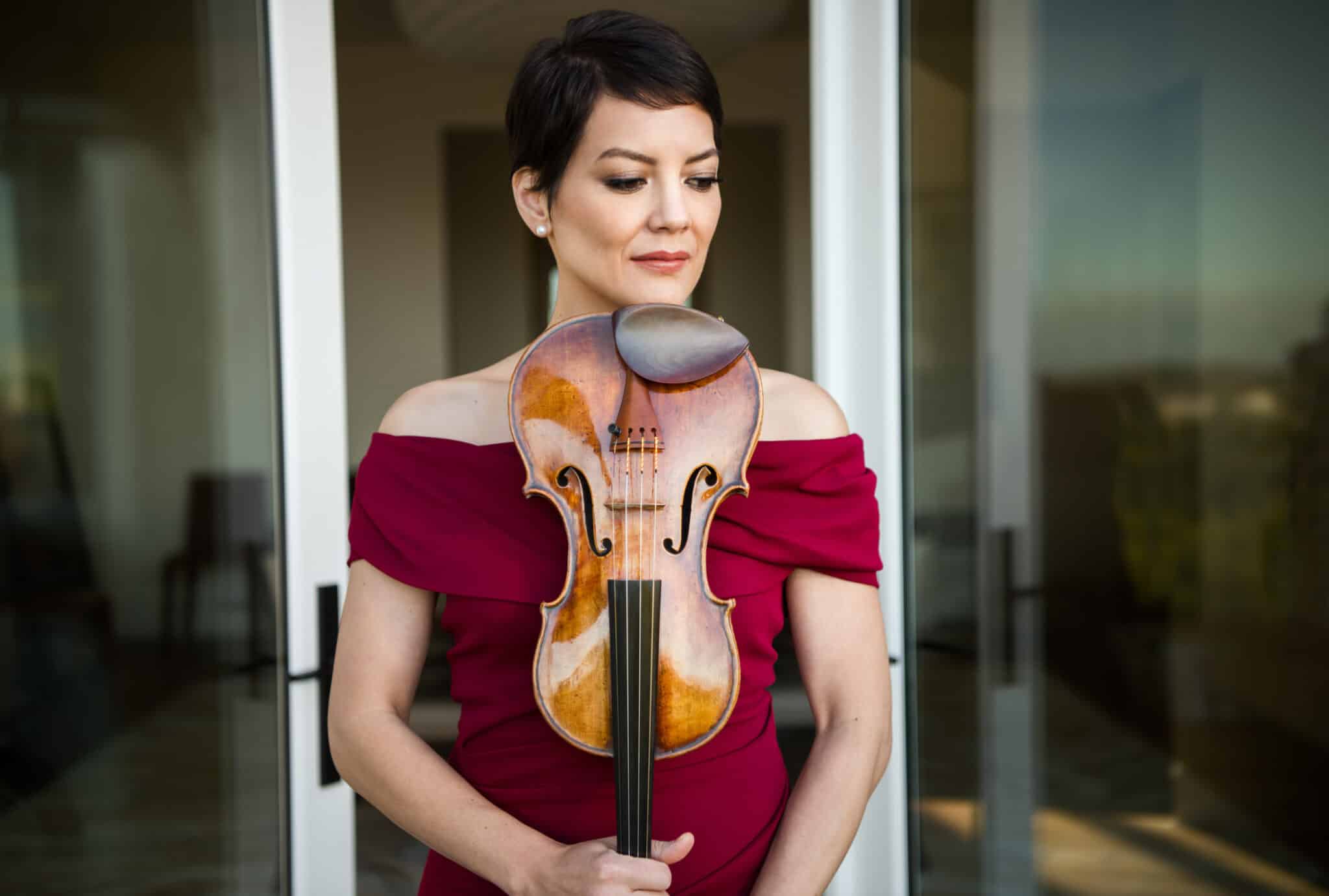 Anne Akiko Meyers
"Meyers' playing is what it always has been: a national treasure. She is a musical wizard, with astonishing access to every kind of expressive color. Whether within a phrase or on just a single note, she can change tone color in a micro-second from smooth grain to rough, from dark to radiant, from thoughtful to assertive. And she can, like magic, bring new work to vibrant life"
- San Diego Union-Tribune
Anne Akiko Meyers has enraptured audiences around the world for decades. Regularly performing on the leading stages, Anne has collaborated with many of today's most important composers, resulting in significant works for the violin. She has made close to 40 recordings, many of them debuting at #1 on the Billboard charts, which are staples of classical music radio stations and streaming platforms.
A champion of living composers, Meyers has inspired and regularly collaborates with composers including Mason Bates, Jakub Ciupiński, John Corigliano, Michael Daugherty, Jennifer Higdon, Samuel Jones, Morten Lauridsen, Arturo Márquez, Wynton Marsalis, Akira Miyoshi, Arvo Pärt, Gene Pritsker, Einojuhani Rautavaara, Somei Satoh, Adam Schoenberg, and Joseph Schwantner.
Anne has premiered new music with the symphony orchestras of Chicago, Dallas, Detroit, Nashville, Phoenix, Pittsburgh, San Diego, Washington D.C., Helsinki, Hyogo, Leipzig, London, Lyon, and New Zealand, among others.
In recent seasons, Anne has worked closely with Arvo Pärt (Estonian Lullaby), Einojuhani Rautavaara (Fantasia, his final complete work), John Corigliano (Lullaby for Natalie), and Mason Bates and Adam Schoenberg (violin concertos). Upcoming premieres include Fandango by Arturo Márquez, with Gustavo Dudamel and the Los Angeles Philharmonic at the Hollywood Bowl; cadenzas by John Corigliano for the Beethoven Violin Concerto with Keith Lockhart at the Brevard Music Festival; and Michael Daugherty's Blue Electra about American icon, Amelia Earhart, with Gianandrea Noseda and the
National Symphony, at the Kennedy Center.
In the 2019-2020 season, Meyers performed the Barber Violin Concerto at Ravinia with James Gaffigan and the Lucerne Symphony Orchestra, debuted Adam Schoenberg's Orchard in Fog at the George Enescu International Festival in Romania which she also performed with the symphony orchestras of Annapolis, Boise, Iris, and Louisville. Other highlights included appearances with Kristjan Järvi and the MDR Leipzig Radio Symphony Orchestra at the Leipzig Gewandhaus, Sapporo's Kitara Hall, and Tokyo's Suntory Hall. That year, Anne released Arvo Pärt's Estonian Lullaby and Mirror in Mirror, featuring new arrangements by Philip Glass and Morten Lauridsen on Avie Records.
Anne is highly acclaimed as a television and recording artist who was the top-selling traditional classical instrumental soloist of the year in 2014 and the only classical artist for NPR's 100 best song list in 2017. John Williams personally chose Anne to perform Schindler's List for a Great Performances PBS telecast and Arvo Pärt invited her to perform at the opening ceremony concerts of his new centre and concert hall in Estonia.  Meyers premiered Samuel Jones's Violin Concerto with the All-Star Orchestra led by Gerard Schwarz in a nationwide PBS broadcast special and a Naxos DVD release. Her recording of Somei Satoh's Birds in Warped Time II was used by architect Michael Arad for his award-winning design submission which today has become The World Trade Center Memorial in lower Manhattan.
Outside of traditional classical, Anne has collaborated with a diverse array of artists including, jazz icons Chris Botti and Wynton Marsalis; avant-garde musician, Ryuichi Sakamoto; electronic music pioneer, Isao Tomita; pop-era act, Il Divo; and singer, Michael Bolton. She performed the National Anthem in front of 42,000 fans at T-Mobile Park in Seattle, appeared twice on The Tonight Show, and was featured in a segment on MSNBC's Countdown with Keith Olbermann that became that show's third most popular story of the year.  She has been featured in profiles or performances on CBS Sunday Morning, CBS's "The Good Wife," NPR's Morning Edition with Linda Wertheimer, and All Things Considered with Robert Siegel, and she curated "Living American" on Sirius XM Radio's Symphony Hall.
Anne has been featured in commercials and advertising campaigns including J. Jill, Northwest Airlines, DDI Japan, and TDK. Best-selling novelist, J. Courtney Sullivan, consulted with her for The Engagements, and based one of the novel's main characters loosely on Anne's career. She collaborated with children's book author and illustrator, Kristine Papillon, on Crumpet the Trumpet, and appeared as the character Violetta the violinist, and recently appeared in a documentary about legendary radio personality, Jim Svejda.
Anne was born in San Diego and grew up in Southern California where she and her mother traveled 3.5 hours each way from the Mojave Desert to Pasadena to work with Alice and Eleonore Schoenfeld at the Colburn School of Performing Arts. Anne continued her studies with Josef Gingold at Indiana University and moved to New York at the age of 14 to study with Felix Galimir, Masao Kawasaki, and legendary teacher, Dorothy DeLay, at the Juilliard School. She has received the Avery Fisher Career Grant, the Distinguished Alumna Award from the Colburn School of Music, and the Luminary Award from the Pasadena Symphony, and is on the advisory council of the American Youth Symphony Orchestra. Meyers performs on the Ex-Vieuxtemps Guarneri del Gesù, dated 1741, considered by many to be the finest sounding violin in existence. Anne lives in Los Angeles with her husband and two daughters