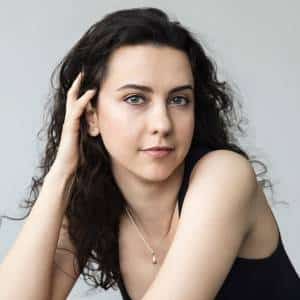 Anna Petrova
Bulgarian pianist, Anna Petrova, is praised for her "artistic, clear and enlightened" performances [BBC Magazine.] At her New York orchestral debut with conductor Philippe Entremont, Ms. Petrova was noted for her "ultra-smooth playing style" (New York Fine Arts Examiner). She is an Assistant Professor of Piano at University of Louisville, Kentucky and performs extensively as a soloist and chamber musician.
This season Anna Petrova is making her debut with the Louisville Orchestra, performing the Grieg Piano Concerto with conductor Roderick Cox, Beethoven Piano Concerto No. 4 with the DC Strings Orchestra in Washington, DC and Prokofiev Piano Concerto No. 3 with Port Angeles Symphony and conductor Jonathan Pasternack. Solo engagements include recitals in the US and Spain, masterclasses in the US and Canada and the release of her first solo album A Slavic Heart, featuring works by Scriabin, Rachmaninoff, Prokofiev and Vladigerov.
Additionally, Ms. Petrova is working on a two-CD set of the complete piano sonatas of Russian composer Samuil Feinberg for NAXOS. She is the Artistic Director and Founder of the Alberto Jonás International School of Music in Valencia, Spain and one of the founding members of the Festival Malaga Clasica.
Highlights of recent seasons include a recording of Stravinsky's Les Noces with the Virginia Symphony Orchestra and conductor JoAnn Falletta, Virginia Arts Festival (NAXOS, 2016); a solo tour of China; performances of Rachmaninoff Rhapsody on a theme by Paganini and the Second Concerto, Prokofiev First and Third Piano Concertos, and the Beethoven Triple Concerto. At her return engagement with the Monterey Symphony Orchestra, California, the Peninsula Reviews wrote: "There was a lot of vitality in her crisp playing […]bringing out in Petrova an impetuous excitement that stirred the audience to its feet!" (Lyn Bronson).
Prizewinner of numerous international competitions, including the José Roca (Spain), Bösendorfer (Bulgaria) and Maria Yudina (Russia), Ms. Petrova was a semifinalist at the Queen Elizabeth International Piano Competition in Belgium, where she performed as a soloist with the Royal Chamber Orchestra of Wallonia under Paul Goodwin. Other conductors she has worked with include Max Bragado-Darman, Bruno Aprea, Ramón Tébar, and Francisco Valero – Terribas.
Anna Petrova has given solo recitals in halls such as Carnegie's Weill Recital Hall, Amsterdam's Concertgebouw, Brussels' Conservatoire Royal, Chicago's Preston Bradley Hall, Vienna's Bösendorfer Hall, Auditorio Ciudad de Leon, Spain and Palau de la Musica Valencia, Spain.
Ms. Petrova's performances have been broadcast on National Public Radio Performance Today, New York's WQXR, Chicago's WFMT, and Bulgarian National Radio and Television. A passionate chamber musician, Ms. Petrova is a member of two ensembles: the viola-piano Carr-Petrova Duo and the clarinet-viola-piano Iris Trio.
During the past two seasons the Carr-Petrova duo toured internationally with the interdisciplinary project Novel Voices Refugee Aid Project, presenting interactive performances and workshops to refugee communities. This season the Duo release their debut album "Novel Voices" to critical acclaim on the Melos label and made their Carnegie Hall debut in October, 2019.
The Iris Trio recently toured Germany with an innovative program featuring contemporary composers and recorded their debut album "Hommage and Inspiration" with works by Schumann, Mozart, Kurtág and Weiss. Their future engagements include a CD release tour of Canada and Germany in 2021. Ms. Petrova holds a Doctor of Musical Arts degree from Manhattan School of Music, where her main teachers have been Horacio Gutiérrez and André-Michel Schub.