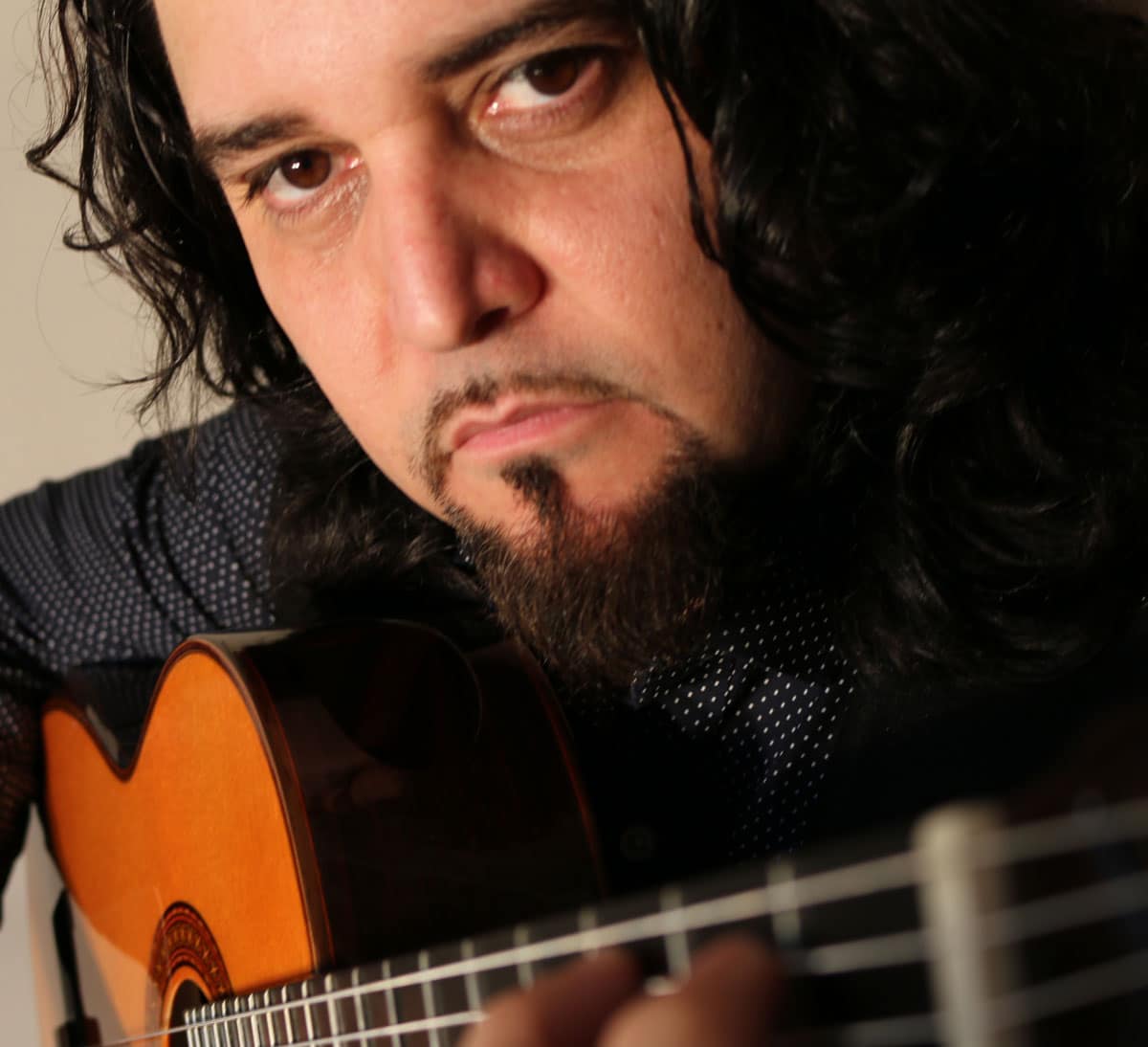 Andres Vadin
guest performing artist, guitar
Andres Vadin was born in Habana, Cuba in 1976 and is a guitarist, composer, arranger, session, tour musician, and guitar teacher. He is a graduate of the Guillermo Tomas and Amadeo Roldan Conservatory of Music in Habana. He began studying music at the age of 10 and won first place in the Amadeo Roldan classic guitar competition at the age of 12 held in Habana, Cuba.
From an early age Andres showed great passion for different music styles, resulting in being a versatile musician. His talent allowed him to play the most traditional flamenco music, as well as playing with artists of different musical styles such as Aceituna Sin Hueso (with whom he collaborated on the album "Cuba le canta a Serrat", nominated for the Latin Grammy in 2005 in the category "Contemporary Tropical Album") Asere and Billy Cobhan, El Chato, Jose Mendez, Sabrina Romero, Jorge Pardo, Saul Quiros, Pele (Navajita Platea), Antonio Carmona (Ketama), Marcus Nand, Michel Labaki, Chuck Wright (Quiet Riot), Adrian Martin, Natalia Jimenez, Oskar Cartaya (Vadin collaborate in his album "Bajo Mundo", nominated for the Latin Grammy in 2017 in the category "Best Latin Jazz Album"), Josemi Carmona (Ketama), Wadih Al Safi, Faramarz Aslani, Mamak Khadem, Aref, Yuval Ron, Concha Buika, Yasmin Levy, Terry Ilous (XYZ, Great White), Jose Antonio Rodriguez Trio, Santa Cecilia Orchestra, Carl Verheyen, and many others.
He has toured throughout Wales, England, Holland, Belgium, Scotland, Ukraine, Argentina, Ecuador, Chile, Puerto Rico, Germany, Canada, France, and in some Middle Eastern countries such as Lebanon, Jordan, Turkey, and Dubai. He has played at many well-known music festivals like Womad from Peter Gabriel, Glastonbury, Musicport World Music Festival, Montreal International Jazz Music Festival, and many others.
He performed at the inaugural Big Mama Jama Jamathon, a 52 hour non-stop music event organized in LA by the legendary Steve Vai, where great musicians such as Al Di Meola, Orianthi, Nuno Bettancourt, and many others performed.
His work as a session musician includes the movie soundtracks of "The Whale of a Tale" and "Bel Canto". Also collaborations with artists like Falete, Maricela, Asere and Billy Cobham, Golden Glow, Jose Fernandez and Wadih El Safi, Faramarz Aslani among others in their albums.
One of his great passions is teaching. He collaborated with Barrio Music, an organization that provides music education to neighborhoods throughout Los Angeles, CA.
Vadin also performs with his project, the Andres Vadin Project, playing his original compositions infused with Cuban, Arabic, and Jazz influences. They have been performing at the Flamenco Arts Festival (FAF), a world-class flamenco music festival held in California, SBAcoustic, Lluvia Flamenca Festival in Phoenix, and many others. He also performs with ''Beyond Carmen''  project that includes Classic Music, Opera and Ladino music in collaboration with mezzo soprano Audrey Babcock at the Opera Festival in Utah, Opera Delaware and others. Vadin is endorsed by Godin Guitars, Fishman Amplifiers and Bartolex guitars.