Annual Innovation Residential takes place March 22-27
Alumni Enterprise and Fast Pitch Awardees work with artistic and business leaders to advance their projects and skill sets
What Does the (Musical) Future Hold? Join in a Zoom conversation with industry leaders and Academy alumni on March 25
Santa Barbara, CA — The Music Academy announces the launch of the 2021 
Online Innovation Residential
 being held March 22 through 27. A cornerstone of the Music Academy's 
Innovation Institute,
 the annual Residential serves as an educational incubator and continued mentorship for recipients of the Academy's 
Alumni Enterprise and Fast Pitch Awards
, further expanding leadership possibilities for their projects and careers. Fifteen alumni will experience six days of engaging curriculum taught by industry leaders in group and individual class settings to advance their careers and accelerate their award-winning, entrepreneurial projects from across the globe. Their projects focus on arts education, classical music in unexpected places, amplifying diverse (and sometimes neglected) composers, and utilizing music and technology to address societal problems and uplift audiences. The Online Residential has been curated and managed by 
Casey Molino Dunn
, who serves as the Music Academy's Vice President of Innovation & Program Development.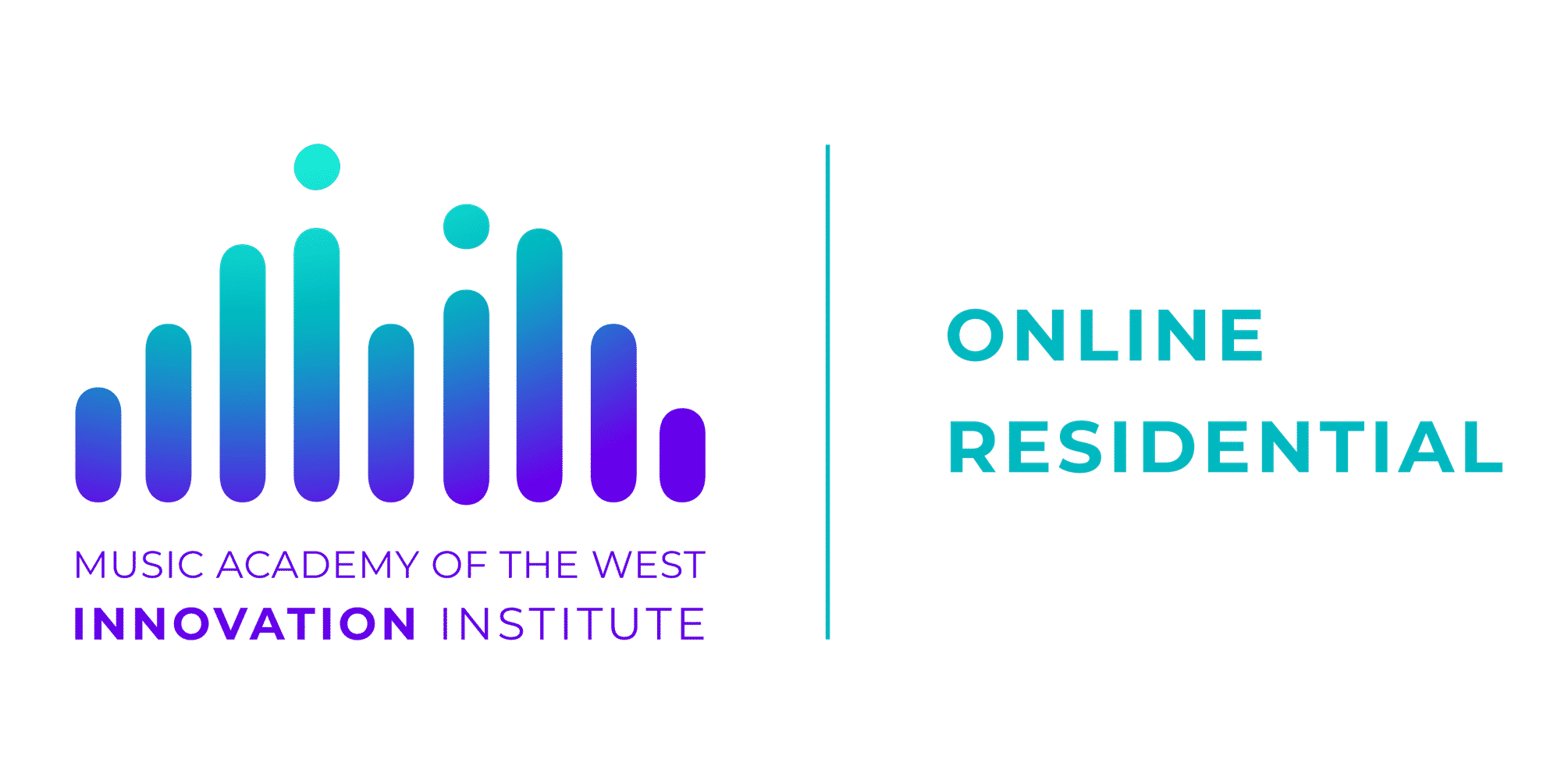 The Online Residential was conceived to provide the Academy's exceptional alumni with the tools and guidance from leaders in the industry to bring their entreprenuerial and forward-thinking projects to fruition. Following the Residential, they are provided mentorship connections with additional leaders.
The featured speakers include Beth Morrison and Jecca Barry
 (Beth Morrison Projects), violinist Kelly Hall-Tompkins, Jessica Lustig (Co-Founder, 21C Media Group), Clive Chang (Chief Strategy & Innovation Officer, Lincoln Center), Jennifer Bowman (Director of Music Education, Kennedy Center), Michael Mauskapf (Assistant Professor, Columbia Business School), and mindfulness instructor Elizabeth Packard Arnold (Associate Fine Arts Dean, University of Kentucky).
Music Academy of the West President & CEO 
Scott Reed
 will offer one-on-one sessions with the participants. Several members of the Music Academy administration will also contribute to the Residential as presenters and producers, including Chief Advancement Officer 
Jonathan Bishop,
 Chief Artistic Officer 
Jamie Broumas,
 Dean 
Tiffany DeVries,
 Chief Financial Officer & Vice President of Administration 
Mimi Do,
 Chief Marketing & Communications Officer 
Ana Papakhian,
 Vice President of Innovation & Program Development 
Casey Molino Dunn,
 and Director of Student Services & Alumni Programs 
Isabel Dickinson.
Winners of the 2020 and 2021 Alumni Enterprise Awards and recent Fast Pitch Awards will be in attendance for this year's Residential. Building on the success of this past summer's Remote Learning Institute, the Residential will offer a range of interactive online approaches and perspectives. Curriculum topics include entrepreneurship, business strategy, wellness, budgeting, and marketing. Learn more at 
musicacademy.org/residential.
2021 CURRICULUM HIGHLIGHTS
Mon, Mar 22: Big Picture: Entrepreneurship & Strategizing Tue, Mar 23: Innovation & Social Entrepreneurship // Business Policy & Planning for the Arts Wed, Mar 24: Finances & Fundraising Thu, Mar 25: Management & Money (including Budgeting) // Marketing
PUBLIC EVENT: What Does the (Musical) Future Hold?
Fri, Mar 26: Synergy // Making it All Happen Sat, Mar 27: Big Picture & Looking Ahead // Next Steps & Surprises
---
PUBLIC EVENT, AN ONLINE CONVERSATION: THU, MARCH 25, 5 PM PT
What Does the (Musical) Future Hold?
The public is invited to join national arts leaders in an interactive session to discuss and debate the future of classical music – its presentation and ecosystem – in 2021 and beyond. Participants will have the opportunity to share opinions and ask questions in small breakout rooms with moderators. Topics to include when live, indoor events will come back and what they will be like. In addition to a panel of speakers from the Innovation Institute, the Academy's Alumni Enterprise Award winners and Fast Pitch Award winners will also take part in this engaging conversation. In addition, there will be messages from Baltimore Symphony Music Director 
Marin Alsop
 and Pulitzer Prize-winning composer 
Jennifer Higdon.
The number of participants will be limited to optimize the experience, so early registration is encouraged. Learn more and register
here.
About the Innovation Institute
The Music Academy has continued to expand opportunities for fellows and alumni to develop into entrepreneurial and innovative artists through new initiatives under the umbrella of the Innovation Institute. A keystone of the Institute's year-round offerings is the annual Alumni Enterprise Awards (AEA), a significant grant program for trailblazing endeavors. The AEA program includes the annual Innovation Residential, an educational incubator and continued mentorship for awardees. Each summer, fellows attend a range of career development workshops that closely connect with their performance program. These forward-thinking Innovation Seminars cover business and communication skills, entrepreneurship, finances, technology, and other related topics. Led by a range of industry leaders, these interactive workshops share best practices for building rewarding and sustainable music careers. The Innovation Institute also collaborates with faculty artists, speakers, alumni, and supporters. Fellows are also invited to participate in entrepreneurial competitions to expand their skillset. The Fast Pitch Awards are an opportunity to develop and share ideas that are designed to advance the field of classical music. The Digital Challenge, a video competition, encourages fellows to craft an engaging musical performance, one that may have them serving as director, producer, technical director, and performer. The Innovation Institute leads the Academy's investment in educational and performance technology, including developing plans for streaming performances from Hahn Hall and other campus venues. Recent strides include providing the 2020 fellows with remote learning equipment, facilitating an online Summer Festival, and producing year-round donor events. Learn more at
musicacademy.org/innovation.
The Alumni Enterprise Awards are generously supported by the Ladera Foundation.
---