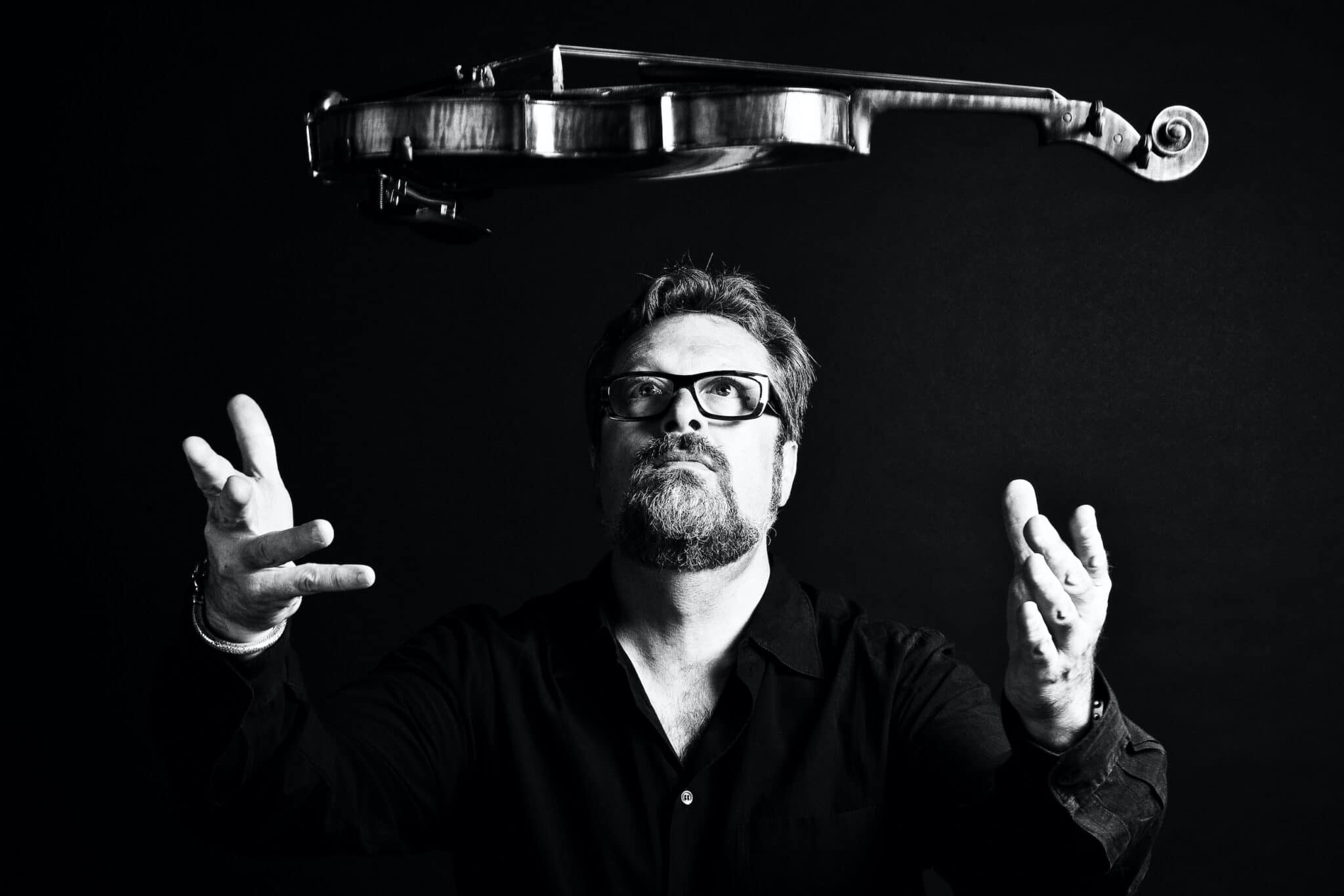 Todd Reynolds
Todd Reynolds, violinist, composer, educator, and technologist, is known as one of the founding fathers of the hybrid-musician movement and one of the most active and versatile proponents of what he calls 'present music.'  The violinist of choice for Steve Reich, Meredith Monk, Bang on a Can, and a founder of the string quartet known as Ethel, his compositional and performance style is a hybrid of old and new technology, multi-disciplinary aesthetic and pan-genre composition and improvisation. Reynolds' music has been called "a charming, multi-mood extravaganza, playful like Milhaud, but hard-edged like Hendrix" (Strings Magazine), and his countless premieres and performances of everything from classical music to Jazz to Rock'n'Roll seem to redefine the concert hall and underground club as undeniably and unavoidably intertwined.  He has just released his double CD set, Outerborough  on Innova Recordings, featuring InSide, a collection of his own music, paired with OutSide, music written by a veritable who's who of contemporary composers.
A forerunner in the expansion of the violin beyond its classical and 'wood-bound' tradition, Reynolds electrifies in concert, weaves together composed and improvised segments, and makes use of computer technology and digital loops to sculpt his sounds in real time, seamlessly integrating minimalist, pop, Jazz, Indian, African, Celtic and indigenous folk musics into his own sonic blend. As a cross-genre improviser and collaborator, he has appeared and/or recorded with such artists as Anthony Braxton, Uri Caine, John Cale, Steve Coleman, Joe Jackson, Dave Liebman, Yo-Yo Ma, Graham Nash, Greg Osby, Steve Reich, Marcus Roberts and Todd Rundgren, and has commissioned and premiered countless numbers of new works by America's most compelling composers, including John King, Phil Kline, Michael Gordon, Neil Rolnick, Julia Wolfe, David Lang, Evan Ziporyn and Randall Wolff. His interdisciplinary work includes ongoing collaborations with SoundPainter Walter Thompson as well as media artists Bill Morrison and Luke DuBois and sound artist Jody Elff.
Reynolds is a founder of the band known as Ethel, a critically acclaimed amplified string quartet, with whom he wrote and toured internationally for seven years. He has also produced Still Life With Microphone, an ongoing theater piece which incorporates his own written and improvised music, compositions written for him, and elements of video and theatrical arts.   Nuove Uova [new eggs], new works for violin and electricity, another Todd Reynolds production is a 'new-music cabaret' of sorts, having as its home Joe's Pub in Manhattan. The Todd Reynolds String Quartet and Typical Music, an avant piano trio featuring Ashley Bathgate and Vicky Chow from the Bang on a Can All-Stars, continue to commission, perform and record music from Contemporary Music's brightest stars.